People Are Special
Medal of Honor Recipients
2007 - Present
2003 - 2006
1999 - 2002
1995 - 1998



Throughout the years I have participated at each Moving Wall event, there is always a unique, special someone that crosses my path. You remember their contributions long after Moving Wall departs, even though your paths may never cross again.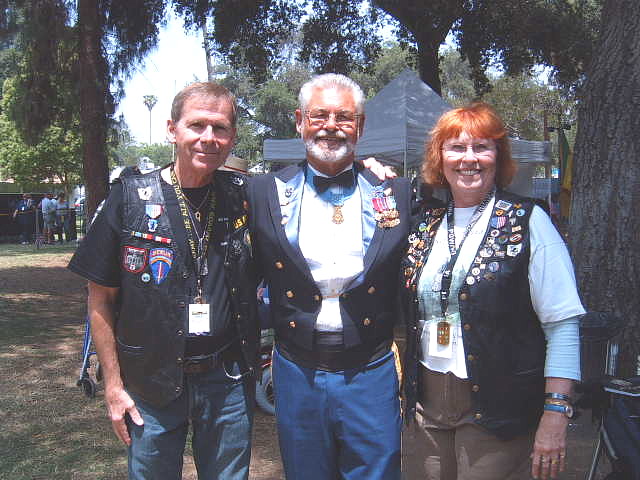 Jon R. Cavaiani, Staff Sergeant, U.S. Army, Vietnam Training Advisory Group, Republic of Vietnam, June 4-5, 1971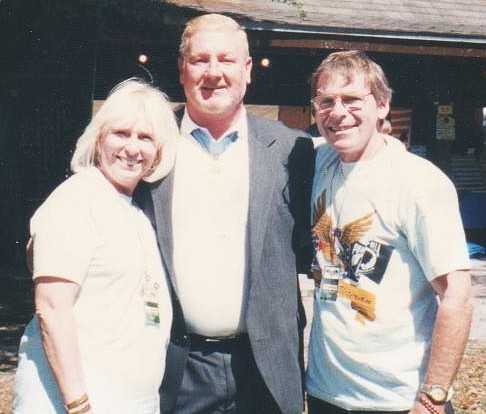 Sammy L. Davis, Sergeant (then Private First Class), U.S. Army, Battery C, 2nd Battalion, 4th Artillery, 9th Infantry Division, fire support base west of Cai Lay, Republic of Vietnam, November 18, 1967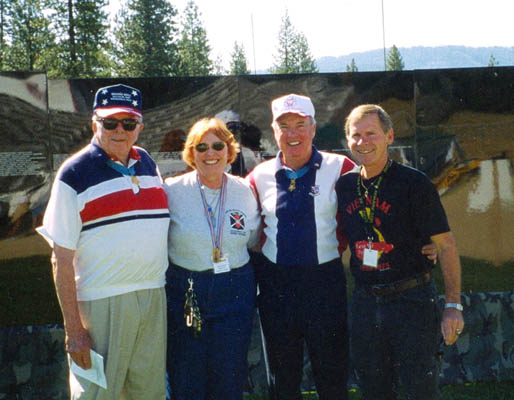 James E. Swett, First Lieutenant, U.S. Marine Corps Reserve, Marine Fighter Squadron 221 with Marine Aircraft Group 12, 1st Marine Aircraft Wing, Solomon Islands area, April 7, 1943. Other Navy award: Distinguished Flying Cross with one Gold Star.

James A. Taylor, Captain (then First Lieutenant), U.S. Army, Troop B, First Cavalry, Americal Division, West of Que Son, Republic of Vietnam, November 9, 1967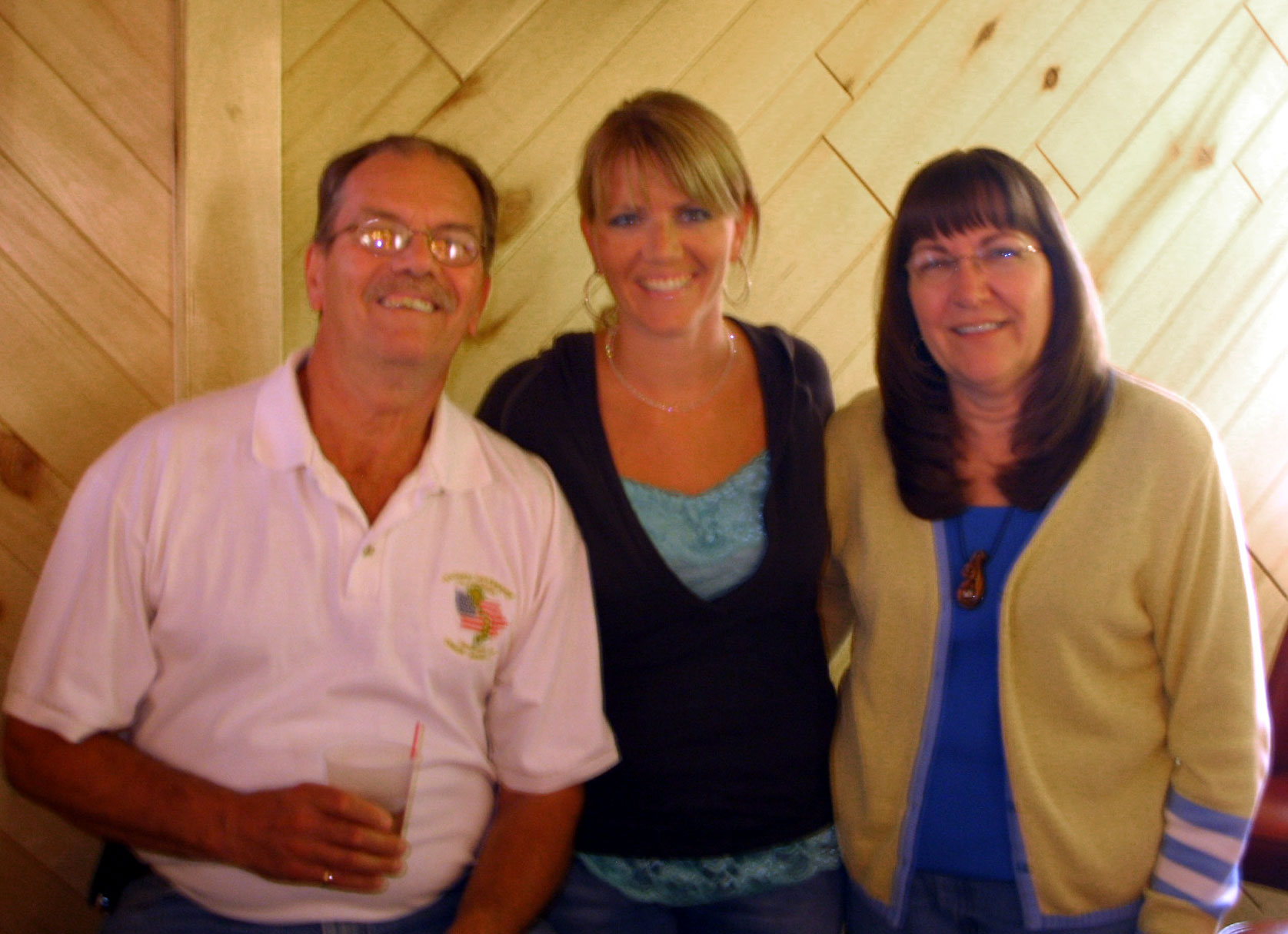 Something special happened at the 25th Anniversary of The Moving Wall event in White Pine, Michigan (July 16-19, 2009). So many people came to the celebration for the incredible founders, John Devitt, Norris Shears and Gerry Haver (RIP). These amazing people have the same respect and love for TMW and they came to honor it, and its founders. One such family demonstrating their dedication was Ron, LuAnn and their daughter, Jess Dirks. He has volunteered with TMW having spent many hours at various events within 100 miles of his home in Iowa. His wife, LuAnn does not travel that often with him but she sure enjoyed the three day celebrations getting to know all about The Moving Wall. I admire his daughter, Jess, not only because she was so enthusiastic but because she is a teacher and recognizes what she absorbed, she could later take back and share. My respect for teachers is unwavering and Jess has an array of special attributes. We are so fortunate to have met this family.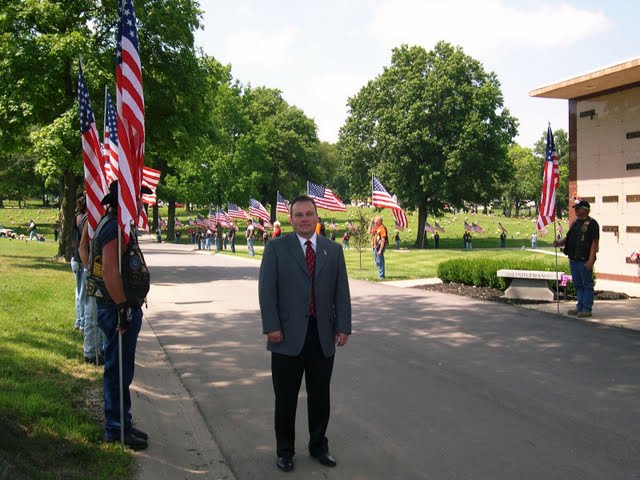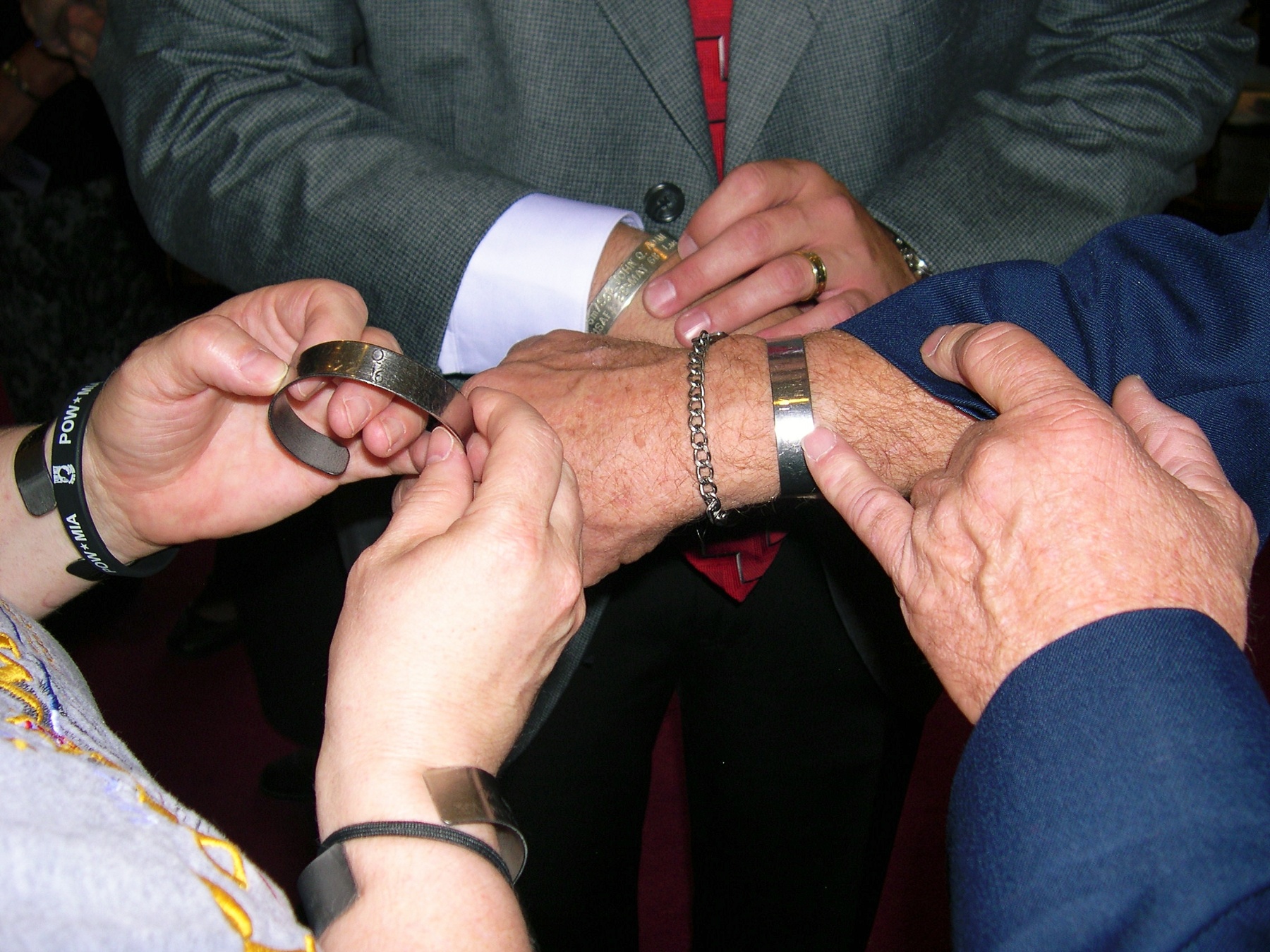 John has been an incredible participant of Touch the Wall not only sharing with me his personal traveled road but also wanting to describe his voyage with everyone. He feels there are others who could relate to such a personal journey. John will soon be sharing his experience with finding out about his MIA's repatriation and traveling to John Quincy Adam's hometown for the repatriation ceremonies. I really look forward to reading John's memorable reflections but right now all that I can share are two photographs. John's heart is larger than the distance he traveled and I feel very blessed to have met this remarkable man.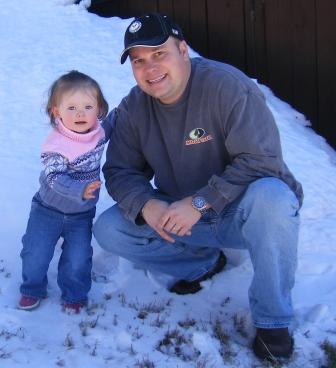 John Compton wrote "John, Joy, and Sharon, Below is a paper I wrote for a college class. I quit my job last November and became a part time student and part time stay at home dad to my daughter and son that will join us in about 10 weeks. This is a story I put into words that not many people around me know. I just want you two to know, you changed my life. I've shared the POW/MIA issue with many that wouldn't have ever heard of it. Nor would would I fully understand it if it had not been for you guys." John Compton
Still Not Home

The Moving Wall came to Castle Rock on May 18, 2004. In June of 2003 I became the Commander of VFW Post 10573. The President of the Ladies Auxiliary, Marsha, expressed her dream to bring the Moving Wall to Castle Rock. Not really knowing what I was agreeing too, I said yes. It took months of planning and fund raising by many people. The amount of volunteers to make it happen was in the hundreds. The monetary commitment was well past twenty thousand dollars. It took thousands of hours to secure the volunteers and money needed to make this a reality. Since I was the Commander of the VFW post that was the sponsor, ultimately I was responsible for its safe keeping. This was a duty I took very seriously. This was a very important event for so many and my since of respect for these people is immeasurable.

The Moving Wall arrived on a twenty foot flatbed trailer pulled by a white extended cab dully Chevy pickup. A volunteer crew of almost twenty guys got to work erecting the wall. John Devitt, the man inspired to build it like the original Vietnam Memorial Wall in Washington D.C. and caretaker of the moving wall, watches carefully as each panel is removed from the trailer and properly placed. Each panel is about four feet wide and six feet tall. Once erected, the wall seamlessly spans two hundred fifty feet. Its shiny black mirror-like surface is broken up by the almost fifty-nine thousand names printed in white. From a distance, the printing is a blur. As you get close, the names read clear.

The first few days the wall was in town had to be one of the most stressful times of my life. The opening ceremony is a highly choreographed production. It starts with me introducing people in the audience that have loved ones on the wall. Then, I have to introduce a gentleman that was a POW in the Hanoi Hilton for six years. When this man walked into the area you heard him before you saw him; the medals pinned to his chest made a clanging sound I will never forget. Finally there was a Huey helicopter flyover at exactly 1030 hours with a landing a few minutes later and subsequent static display. The magnitude of the week was coming clear. The next few days I don't remember all that well, but I do know that everything went smoothly.

With everything going so well, I made plans to meet with Sharon on Saturday morning. Among the almost fifty-nine thousand names printed on the wall are soldiers, Marines, seaman, and airmen that didn't come home. I plan on having her help me find a MIA. So far it has been easy to separate myself from the names because it almost seems impersonal. When I walk along the wall I see this massive structure and never really stop to think about any one person. On the other hand, I felt it was time to try to make a connection with one. I have always seen the black POW/MIA flags flying in different places and had seen some POW/MIA bracelets in my time it the Air Force, but really never had the connection to actually wear one. So I headed over to Sharon's white shade tent.

Sharon is here to share her life's work. Her husband drove her from Florida just to set up this information booth. Since the Vietnam War, she has made it her mission to educate whoever will listen about the POW/MIAs from the war. Stricken with cancer, Sharon looks tired. The warm air and shear amount of people she is helping has got her worn out. She is on a mission so do not try to tell her to slow down. I sat down in the shade and said, "Sharon, I want to find a MIA that's on the wall." She took a few steps to the eight foot table behind her and picked up a three ring binder. Printed on its pages are names of guys that are still missing.

She said, "Find a name of somebody that you might have something in common with." Staring at the pages, I thought for a minute pondering on the large amount of names. I said, "He has to be from Kansas, my home state." So she flipped to the Kansas page and I looked the names over. There aren't very many, but one name did stand out. It was Airman First Class John Q. Adam. He went missing somewhere in Laos in 1968 when radio contact was lost to the C-130 aircraft he was flying on. "Sharon," I said, "This is my guy. I separated as a Senior Airman and always had a love affair with the C-130." Not saying a word, she filled out a sheet of paper. It was an order form for a POW/MIA bracelet. I informed her that I would not actually wear the bracelet, but I did have a safe place for it and would think about him often. She seemed ok with that and was happy that I would honor this guy any way I could. Then she took a piece of paper and wrote: 65E, line 6. John Q. Adam was waiting for me there.

As I left the tent I got very quiet. I had to walk some two hundred forty feet along the wall as I was on the opposite side from John. I arrived at the panel and found his name. I took the black crayon and placed my paper on the wall and started rubbing. His name appeared perfectly on my paper. A few hours later we had a candle light vigil. I walked up to a Vietnam Veteran by the name of Johnny Walker. I have always thought that it would be cool to be named after a brand of Scotch whiskey. He lit my candle and I headed off to pay my respects to John. It really hit me. I now have that connection to the wall.

A few days later I helped pack up the wall and it headed out of town. As the white truck drove away part of me was glad it was gone. It was an emotionally draining week and a great responsibility. I headed home and riding shotgun with me was that bracelet order form. I got home and placed the form in the pile of papers on the end of my desk. For a few years I would sort the stack and every time see it sitting there. I could not bring myself to actually order the bracelet. One night, after about seven beers I finally got the courage to order the bracelet. It arrived a few days later. Shiny like a new butter knife, it was shaped perfectly for my wrist. The top line was engraved with John's name and rank. The next line was his branch of service, date of loss, and the country of loss. I put it on and thought back to the day Sharon gave me his name. A few minutes later I took it off and set it right next to that stack of papers on the end of my desk.

That night, I was sitting in my office with my feet kicked up watching a baseball game. As I stood up to go to bed I looked down at the bracelet and thought, it's been a long time since John slept in a warm bed. So I put it on and went up the stairs to bed. I woke up the next day already feeling closer to this man I had never met face to face. I headed down stairs to start my day. I fixed two eggs over medium, three slices of bacon, and two pieces of toast. I sat down in front of my computer with my breakfast to eat and check my email. I took the bracelet off since it is not that comfortable and I did not plan on wearing it much anyway. After finishing my breakfast, I started heading up to take a shower when it hits me. It has been a long time since he has had a warm shower, so I put the bracelet on and head up for my shower. That was the last time I took the bracelet off.

Sometime later, I was standing in line at a grocery store when a slightly overweight middle aged lady asked me about my bracelet. Always ready to tell the story I said, "It's a POW/MIA bracelet." She replied, "I had one in college; I wonder if I still have it?" Then she claimed, "I didn't know they still did those bracelets." "Yes ma'am, these boys are still not home," I replied.

NOTE: I wrote back to John immediately - he brought me to tears. His response follows (this all took place days after my surgery).

Sharon, I'm sorry that my story came to you at such a hard time. I'm also happy that it would provide some inspiration during such a hard time. Inspiring you is not what I set out to do. You did that for me. I look back at those days and see myself as somebody ready to be changed but had it not been for you, this story wouldn't have happened. When we parted ways you told me to keep in touch. Never did you know how much I thought of you and I thought it was time for you to know. The Wall changed my life, but you were part of a defining moment for me. I think and look at things in a different light now that John Q. Adam and I walk together. Sharon, you keep fighting because these boys still need you. Maybe even more then you know. As for my story, you may use it how you see fit. Quite honestly, my name attached to it would be great. I'm proud of it and what it means to my life. I'd even be fine with people contacting me if they felt compelled to for whatever reason. Whatever it takes to keep this issue alive until all these boys are home is worth it.

Now you have my email address, let's keep in touch. Let me know where in the county you will be. I'd love to see you again. Plus, if I ever sponsor The Moving Wall again, you will be the first call I make. Love, John

Please contact him only if you want to talk about his experience. I would not want his experience tainted by spam or solicating emails. Thank you. Sharon John's email is johnpcompton@gmail.com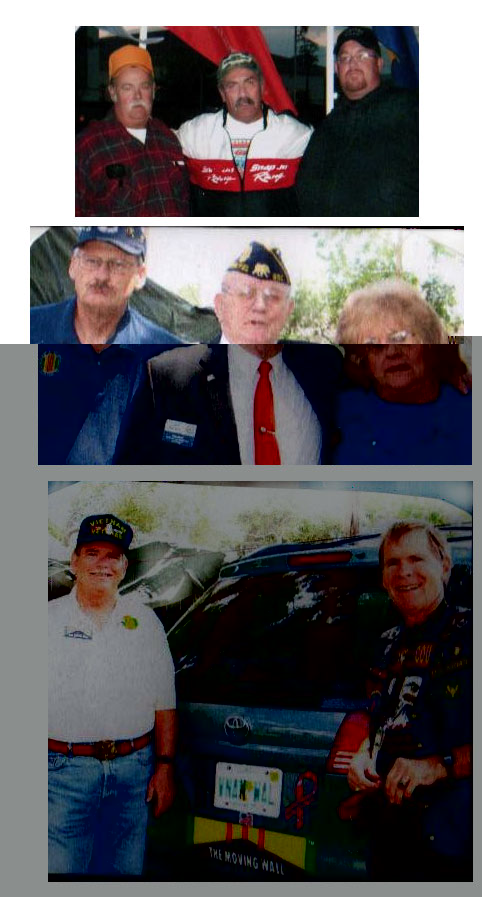 Top (l to r) are three of the most dedicated volunteers, Bruce, Terry Marble, and Brian; Middle (l to r) is Steve Mackey (President, Vietnam Veterans of America Riverside Chapter 47), Elayne Mackey and Bill Harden, District Commander of American Legion. Steve and Elayne were involved with every aspect of this event. They both know The Moving Wall organization, the set up and have the experience to bring the ultimate respection to this memorial. Bottom (l to r) Mike Kennedy, (Vice President, Vietnam Veterans of America Riverside Chapter 47) with Gary Denitto, is also a valued participant of The Moving Wall and not only organized many training sessions for the volunteers but was a "hands on" contact when issues arose at the event.



Bill Harden, District Commander of American Legion encompassing all of San Bernadino County's 28 posts, in Redlands, CA, organized The Moving Wall event after a visit to The Moving Wall hosted in San Jacinto. He was instrumental in developing an incredibly well orchestrated event. There were many volunteers, team leaders and supporters there to help but it was Bill's specific vision that wanted The Moving Wall in his hometown for everyone to appreciate it as he did a few years back. Bill is a soft-speaking gentleman and he is a real gentleman. He is passionate about his cares and causes and maybe because he endured two tours in Vietnam and understood the homeage that his city wanted to pay.

It is with great sadness that I express with deepest sympathy that Bill passed away last month. His daughter contacted me and said he received a well deserved military funeral at Riverside National Cemetery in Riverside CA. Bill was a very generous and compassionate man, so willing to go the extra mile for someone or anything he truly believed in. It was an honor to have met/worked with Bill - Rest in peace.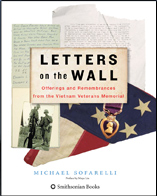 A new book was just released, "Letters on the Wall", by Michael Sofarelli (Preface by Maya Lin), focus is on offerings and remembrances from the Vietnam Veterans Memorial www.lettersonthewall.com. I have not met Michael but throughout the past year we have communicated to one another. Michael approached me for some information but he apologized, he could not say what it was for - he asked me to trust him that he was not doing something that would harm me or The Moving Wall operation. Recently, he notified me that the book was the item he was working on and for anyone who examines the pages, they will discover that Michael put his love and respect for his father who served in Vietnam, in this book.

You begin to wonder who these objects were meant for and some items left could apply to your contributions to someone specific. The letters and items left at The Moving Wall www.TheMovingWall.Org, are the same offerings left at the Vietnam Veterans Memorial. I mentioned this to Michael and he said "For example, the letter on pg 2 and 3, entitled My Marine. This was actually the very first letter I read too. Please read this one. Back to my original point, any fallen soldier's mother could read this and gain comfort in the fact that this may have been her son." In reality it is only one Marine but it represents hundreds and hopefully that will comfort some.One day a museum will be built for thes treasured memories to be displayed for all to review, but in the meantime we have this amazing collection right at our fingertips. One day I hope to meet Michael and his parents - this family has found a place in my heart.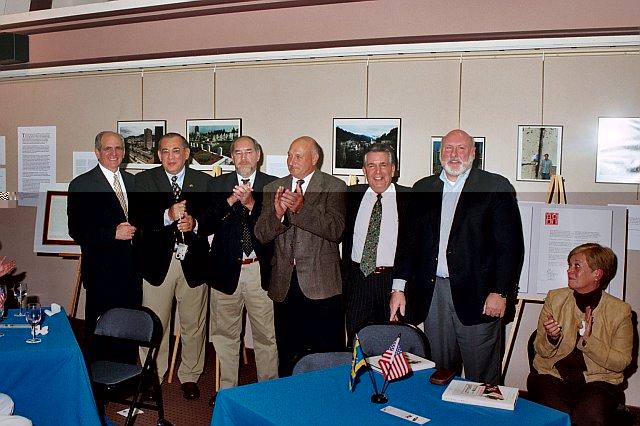 (Left to Right), Sgt Ryan T. Rossing (crew chief), CW3 Dirk M. Brandt (pilot), CW2 Douglas G. Determan (pilot), Sgt Steven D. Lvecht (medic) had worked together in 2005 during Hurricane Katrina evacuating people in New Orleans. We were honored to have this crew at The Moving Wall Their visit generated the crowd's patriotism and the visitors were enthusiastic to learn more about the Huey they had flown. The crew answered everyone's questions.
One interesting bit of trivia: none of the crew on board were born when this 1972 Huey flew it missions.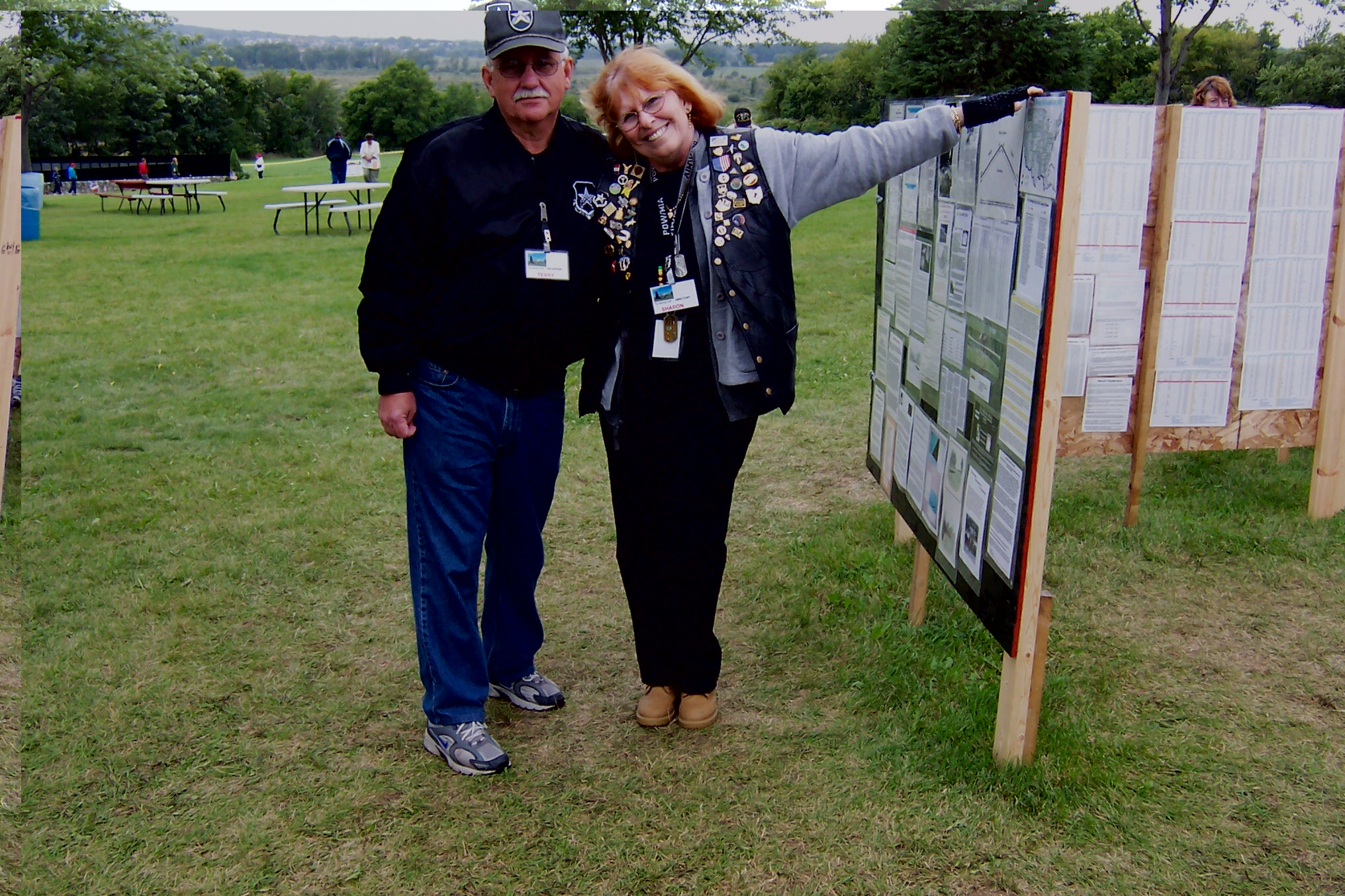 I actually began working with Terry Morris during my volunteer days in Washington DC with the Friends of the Vietnam Veterans Memorial (FVVM). He and I never met but we corresponded throughout my tenture trying to locate veterans looking for veterans. After eight years, we finally had the chance to meet in Valdosta, Georgia when I spoke before the sisterhood of the Vietnam Security Police Association (VSPA) reunion.

Recently both of our dreams came through when we participated together at the Moving Wall event held in Madison Wisconsin. His life long dedication assisting me surfaced as he volunteered the entire week at the Moving Wall. Terry and his wife Jean (who also volunteered with the Moving Wall) are amazing patriots.
Stranger than fiction! This story begins a few days before heading to Madison Wisconsin. On this website I received a request about an uncle on the Memorial. I told the requester that he was on the Wall. I had completed a rubbing for her and emailed that I would send it if she would give me her address before I left for Madison. She mentioned that she lived in Madison and I asked if she could stop by the Moving Wall event to pick up the rubbing. Julie D'Onofrio wrote back and said she was working at the Moving Wall. Wow! I told her I was staying with Terry and Jean Morris and she emailed back that she worked with Terry.

Julie was the chairperson of the wreath laying and escort during the ceremonies. She in in the Color Guard for VFW 7591 and a member of the American Legion Blackhawks. She was an Aviation Administration Third Class Petty Officer serving about the USS Ranger, USS Enterprise and the USS Roosevelt - all this in one tiny, energetic package - who is a very special person.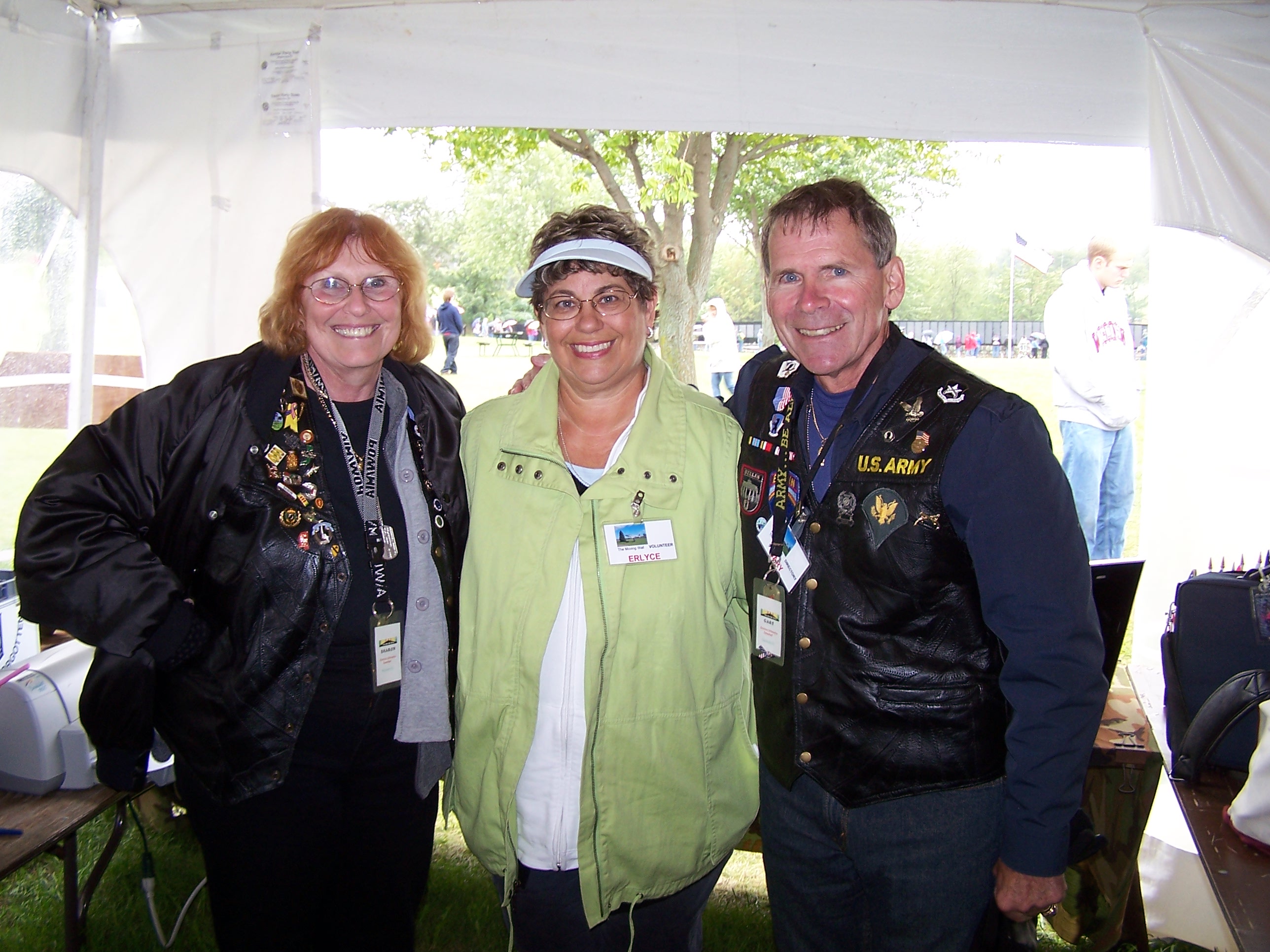 Erlyce Pekas is a member of the sisterhood of the Vietnam Security Police Association (VSPA) and she emerged into my life during the reunion event in Valdosta, Georgia in October 2005. Erlyce had lost her fiance in Vietnam, and although married, having children and a grandchild, she never forgot her fiance nor all the Vietnam veterans.

Erlyce volunteered to come up to Madison Wisconsin on her own just to help. For someone who know very little about the Moving Wall, she was a sponge just obsorbing information but what I admire most about Erlyce, she was the right person to be at the memorial helping those individuals who would not ask for help.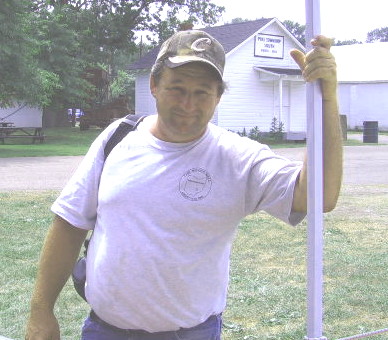 The original idea of bringing The Moving Wall to Perry County came from Harold and Dee McCord of New Lexington. A group formed calling themselves the Perry County Moving Wall Committee and for a year discussed whether they could get the memorial in their town. There was a special reason for a very distinctive individual. Harold and Dee had a son, Harold R. McCord Jr, US Army who served in Vietnam til May 26, 1970 (panel 10W, row 105). I have never witnessed where one family was so instrumental in bringing The Moving Wall to a town and made the event one of the most inspirational events. Along with Harold and Dee, Ken, Gary and Randy McCord would never allow any special attention brought solely to them. Many, many times I heard Gary say please state that it was the Perry County Moving Wall committee that organized everything.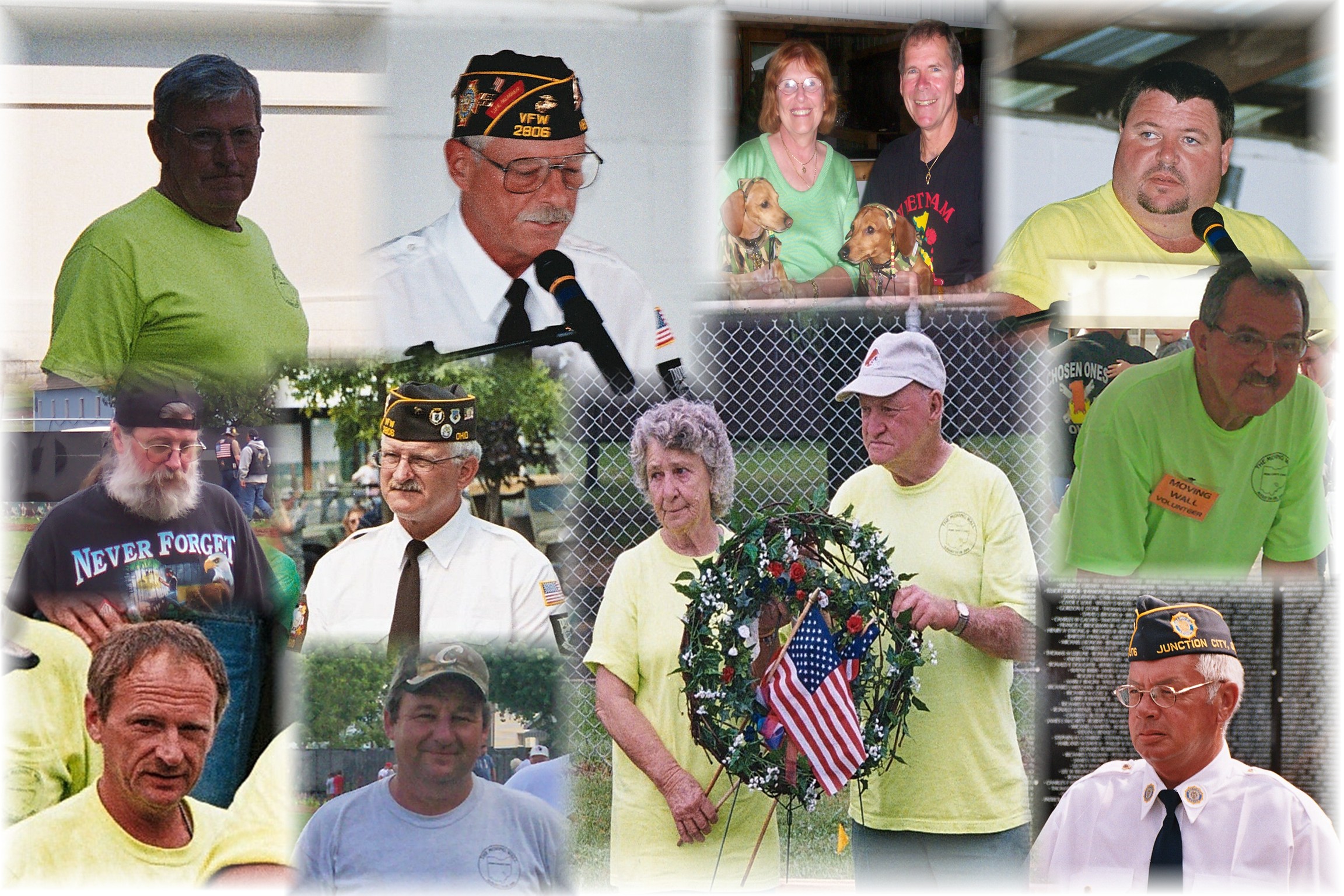 Butch Miller, Shawn Pargeon, Dave and Drew Garlinger, Bill Gillinger, Doug Bauer, Kay Householder, Dave Stickdorn and Jerry Sorrell their event may not have taken place. Perry County has 15 sons on the Memorial but it was the McCord family who came together to bring their son home again. Gary McCord, along with his wife Becky are really great people and I really appreciate all that he did at the event and for me.



During 2004, I worked at four various Moving Wall events. In Virginia Beach, Virginia, mother nature was not very forgiving to our Wall site on the beach. Days of repitious rainstorms and blustery frigid wind kept us inside of the directory tent. The event that week was a first for The Moving Wall. There were definitely some rules broken on this set up but not because lack of respect. The set up was impossible to work with under normal setting up procedures. It was the first time the Wall was lined up straight instead of the apex appearing with out the angle. Secondly it was on the Virginia Beach boardwalk, and literally tied to the railing to keep it from blowing over. Third, there was no buffer zone (area next to the Wall that allowed visitors peace from the press and respectful reverence of silence). Another huge mistake was allowing venders and even a dog parade on the boardwalk (another rule broken because pets are also not allowed within the zone) within 100 yards of the memorial. There was no memorial landscaping but the Navy did secure the backside of the wall with a buffer zone to keep enthusiasts away from climbing on the back of the Wall panels either injuring themselves or the memorial panels. Lastly the Wall was within a 100 yards of the Atlantic Ocean. The weather was pretty horrible and the only reason that during high winds that we did not dismantle the memorial (another very specific ruling because fierce winds can destroy the panels) they were physically secured to the boardwalk railing with anchors as those on naval ships.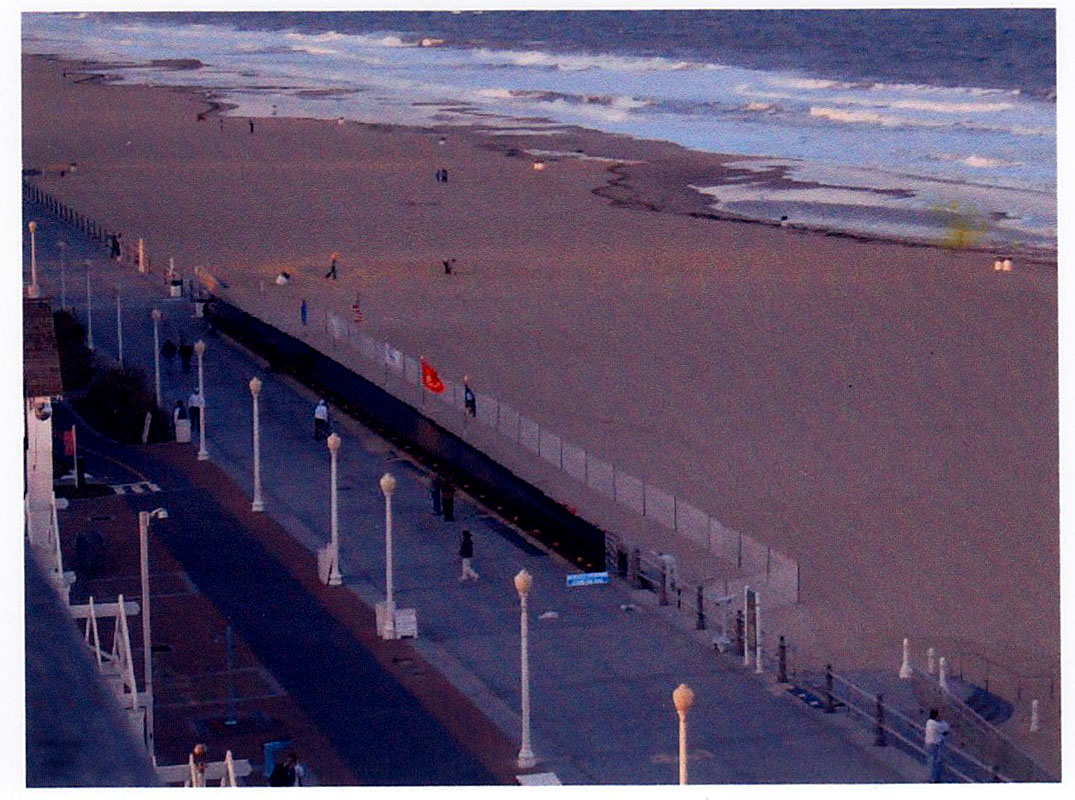 This was a huge endeavor by one very special lady who took this event on like with the determination that I rarely witnessed. Freddi Moody might be small in statue but she stands feet over some sponsors who did not do the preparation that she had laid out before our arrival. Unfortunately as I mentioned, Mother Nature was not being very cooperative but Freddi resisted being dispondent and set out to ensure Virginia Beaches' Moving Wall event was incredibly memorable as it was so totally unique. Freddi worked herself far harder than she did her volunteers.

While the weather was not letting up, there was one vacationing couple from Pennsylvannia sought shelter in our tent. They had hosted the Moving Wall in their town and the four of us had a lot to talk about. Throughout the last two years, we discovered more connections and actively stayed in touch with each other. Imagine my surprise when Bill and Phyllis Weiss showed up at the Moving Wall event in New Lexington, Ohio in August of 2006. They drove from Pennsylvania to Ohio, so we could visit together. I find that their gesture of support is a geniune gift of friendship.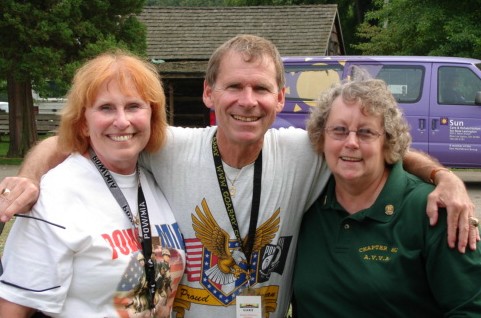 My first meeting with Rob Roberts was in Weaverville California, home of Norris Shears (one of the two men who helped John Devitt develop his passion). Rob was going to take over escort duties for Norris. Rob listened and asked really incredible questions - I just knew his involvement with The Moving Wall was going to be more than just there for set ups and take downs. Rob has an intuitive perception of The Moving Wall - I am very attentive as he relays his thoughts and ideas about the memorial. I worked with Rob on two set ups, both Virginia Beach FL and Madison WI. He has since moved on to other opportunities.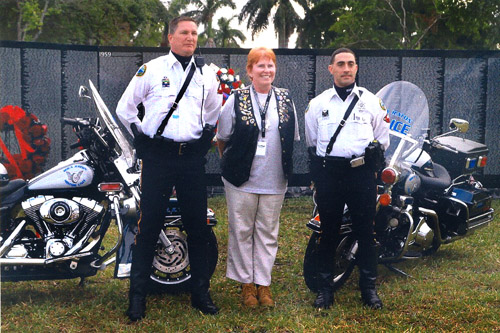 We interact with many of our military and police volunteers during the weeks' event. Both Officers Ross Bethard III and Adam Reisner of the Boca Raton Florida Police Department were very attentive volunteers. This was their first time interacting with the Moving Wall. Both officers displayed the same level of extraordinary involvement at the memorial as they performed on their job. We were very lucky to have these two responsible officers work with our directory tent volunteers.



Back in 1983, John Devitt enlisted two Navy friends to help him with the vision he had to build a mobile Vietnam Veterans Memorial. Gerry Haver (who passed away in 2000) and Norris Shears spent month after month working on the project with John, trying various products for this replica. Assembling the replica, transporting it and finding numerous construction methods to take it apart so that it was portable was a challenging endeavor. Norris has been involved since the very beginning. During various time frames, he was responsible as the silk screener as well as the escort driver.

I met Norris and Linda Williams in Tampa, 2001 and was honored volunteering with them on multiple Moving Wall events. One of my best events was in Norris and Linda's hometown of Weaverville, California and what a successful week that was. Norris and Linda were so involved in the preparations for the Moving Wall -- I felt like I had an inside seat witnessing a near perfect tribute to honoring our veterans on the Vietnam Memorial. Linda and Norris no longer travel around the country so I am now grateful that any time we spend together it is as friends.

If you really want to learn about the Moving Wall, the first person you start with is the escort driver. Not only do they know the mechanics of the memorial but they have so many experiences to share. Channing Prothero inspired me to search beyond my limits because he believes in my efforts to bring the spirit of the memorial to The Moving Wall visitors. Since he has friends and family on the Memorial, Channing took the time to explain the various contributions I could introduce, as well as the mistakes often made when involved in this situation. There is a special place in your heart that you draw from when dealing with friends or family and his guidance is always appreciated.

Channing is now the webmaster of The Moving Wall website. I still ask for his help and guidance on various issues.
John Devitt sent me the following: Sad news to report. Channing Prothro passed away on February 21, 2014. Channing was The Moving Wall webmaster. He will definitely be missed with his long participation with TMW as an escort, friend of many veterans and more recently as the Web Master. We relied on his expertise of the website and the professionalism he maintained for the site." Channing you are now with your fellow veterans who you admired and respected. My dear friend, RIP.




Through out Tim Swearongin's tenure as escort driver, he covered a lot of territory across the country. Tim was so informative to Tampa, Florida Moving Wall events but it was the variety duties he juggled as he co-hosted the Moving Wall in Houston, Texas. I was so honored to have worked with Tim on both sides of the memorial presentation.

Gary Ryther introduced me to The Moving Wall in Venice Florida. His explanations about duty, honor and country were heartfelt and his veteran information extensive. However, it was his respect for this Memorial that gave me insight into the spirit of The Moving Wall and enhanced my volunteer dedication.




During the seven years that the Moving Wall was featured in Tampa, Fort Myers and Fort Lauderdale Florida, I learned so much assisting the sons and daughters whose fathers are etched on the memorial. Jen Branch Denard was just one of the "kids" who touched my heart. She has an incredible spirit and always works the extra hours to introduce the memorial visitors to her experiences with Sons and Daughters In Touch (SDIT). www.SDIT.org Her father William Branch, 9 W, line 18 is her inspiration and I was blessed to volunteer with Jen.



PS Jen is still committed to the Memorial but her focus is now on two other men in her life. It is wonderful to know that William Branch lives on through his two grandsons.







At the memorial site, one of the most rewarding contributions comes from the adolescents, ages 10 through 20, who give up their weekends to volunteer at the Moving Wall. Not all of them completely understand the history of Vietnam, but they do comprehend that the names on the Moving Wall represents veterans' lives lost. These cadets assist visitors who come to pay their respects.

One of the best group's participant comes from a Florida Civil Air Patrol company led by Harry "Omar" Leon. For years he had his cadets out at each Moving Wall event in Tampa and Palmetto Florida performing a multitude of duties and volunteering their time to assist others. Although these cadets were young, they were incredibly responsible. Omar is an inspiration to us all and a well-respected leader among the cadets. But Vietnam has played havoc with his health and in 2003, Omar was in a wheelchair and could not be involved with The Moving Wall as he had been in the past.
Update on Omar: I linked up with Harry at The Moving Wall in Lehigh Acres, Florida during Veterans Day celebrations and was totally blown away. He is out of his wheelchair and walking. He is almost back to the Omar we all loved and he is considering bringing back his Civil Air Patrol cadets to volunteer at The Moving Wall in the future. In 2007, Harry married Sherry Porter and he walked towards the alter. Sometimes there are miracles.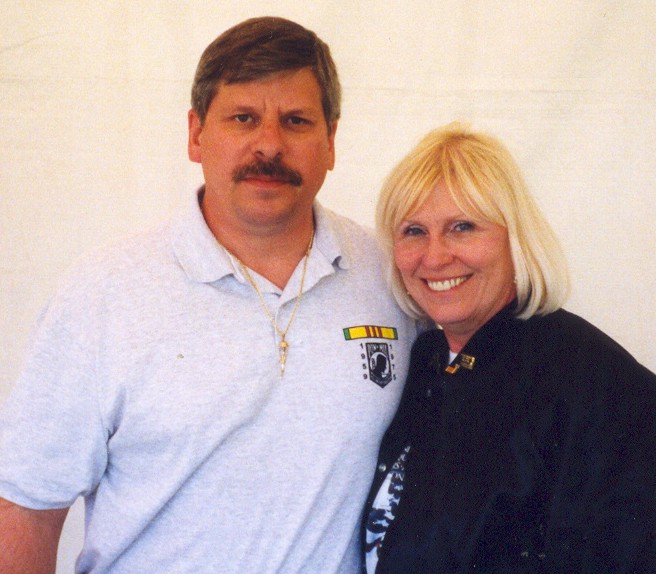 For seven years that I started volunteering for the Moving Wall, I had the opportunity to work with John Ott in the Tampa Florida directory tent. My first partner gave me the chance to explore my contributions to the Moving Wall events and he inspired me to develop beyond the limitations of just looking up names.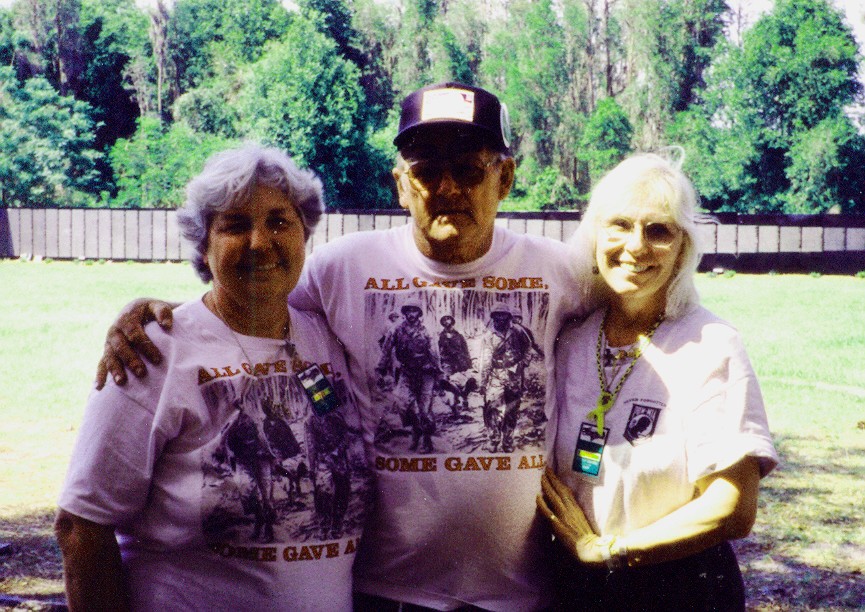 Tampa, Florida's sponsers had so many wonderful team members. The Edward Medard National Park Rangers were extradordinary and they all worked so well together. But there were two volunteers that were the backbone of the operation was Alice and Lee Hutchinson. Alice volunteered for every task and never once said she was too tired to help. However, it was Lee who pitched in from set up to take down. Unfortunately, we lost Lee due to a tragic accident and his presence was obviously missed at the following years' event. Everyone who has volunteered with The Moving Wall should have the support of an Alice and a Lee - we learned so much from these two loving spirits.


There are some people who cross our paths more than once and are always present at the right time. However, I reluctently acknowledge that maybe they are not meant to stay with us forever.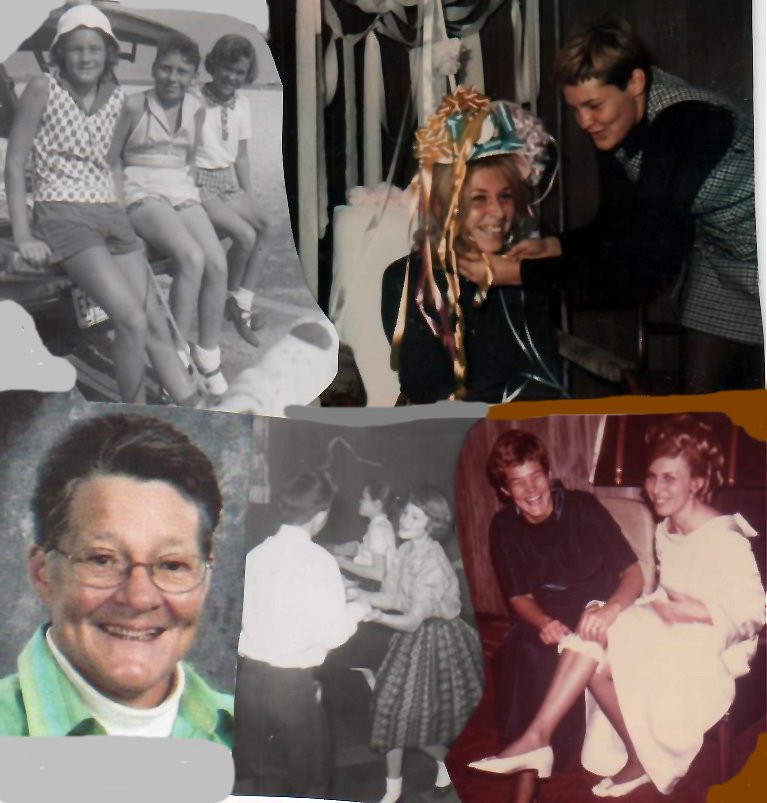 When I was 8 years old, my next door neighbor became my life long friend. The photo with Candy Knapp, Jaci (her sister) and myself was taken in Ocean City, MD where our families use to vacation together. We were always together - we were blood sisters. In the sixth grade, it was my birthday party but it was Candy's night to shine - she knew all the dances. Years went by and in 1967 we were reunited before I met my future husband, Gary. Later in 1968, I became her bridesmaid in October and by November, she was my matron of Honor. Again our forever friendship faded until a special night at The Moving Wall, Hattiesburg, MS in 2001 when Candy and I reconnected. It was the spirit within the "Wall" that opened up the window of opportunity to communicate and heal the past. These past 7 years having Candy as my supporter, sounding board, inspiring teacher and my friend has been so significant to the growth of "Touch the Wall." Too quickly she she has passed on but I can feel her presence when I sit down at the computer to compose. Everyone should have a forever friend's spirit in their life, thank you Candy.




My personal three biggest supporters (the two in camouflaged gear are not allowed to volunteer at the Moving Wall) always pay their respects to the Vietnam veterans before we leave the event and head home. Without Gary Denitto, I would not be able to volunteer nor could I get to the event. When we married, he realized I was not joking when I said he would be also marrying the three plus million Vietnam veterans that I wanted to work with.



Tammy Denitto, Jennifer Denitto (our daughters) and Stephen Lane. Although they have never seen me work at the Moving Wall, both daughters have encouraged me to continue my dedication to all veterans. Tammy, Jennifer have lived in England since 1987 but throughout the years the girls have witnessed my support and this year they supported me in developing this website. Stephen is new to my inner group but he provided so much support. He definitely helped with security contributions enabling my site to maintain a high level of information protection.