The Early Years
Beginnings
Changes
Hands On
Moving On

San Angelo College, San Angelo, Texas - why was I here? I realized I didn't fit in. The only place I felt comfortable was at Goodfellow Air Force Base.
The Air Force Base offered a more familiar connection to my life. I spent hours there at the USO talking with the airmen and I spent weekends being campused because I was talking with the airmen.
In 1966, I had been asleep to all the world events intertwining throughout my uncomplicated life. After one semester in college ended, I caught up with my family in Miami and subconsciously integrated into the Vietnam conflict.
Early in 1968, I was living in Baltimore where the Vietnam movement fever spead throughout Mt Vernon Square. I met my future husband who asked that my involvement with Vietnam Veterans be the kind that would not raise the hackles of the Department of State, where he was employed. By 1970, I was involved with VIVA (Voices in Vital America) at the college campus in our area. Much later I became involved with helping League of Families of Prisoner of War and Missing in Action (POW/MIA) Families.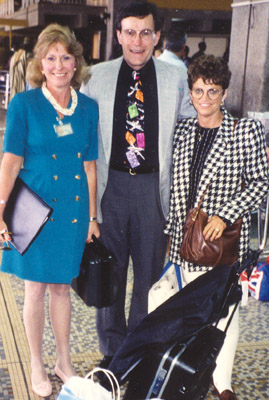 On February 12, 1973, I emotionally watched my POWs return and immediately contacted them all. It was an incredible experience to connect with my POWs, Jerry Driscoll, John "Mike" McGrath, and Robert Lewis.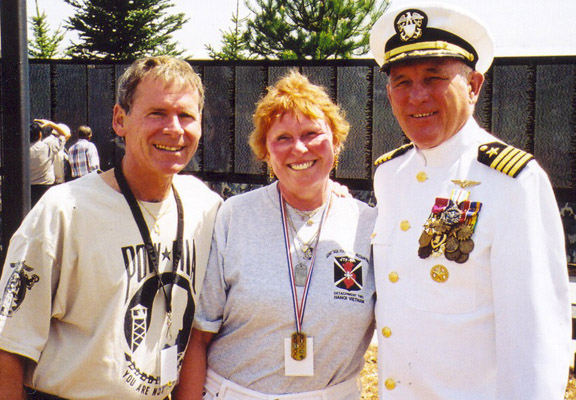 I was ready to part with their bracelets, but explained to all three that I could not give back my symbols of commitment to them. The rule is that when a MIA or POW returns, you turn over the bracelet. Well, in my logical mind I knew I was supposed to do it, but I had worn them for so long, they were a part of my life. So I explained to my three POWs that I would like to keep them as a rememberance, and they said they appreciated that, especially since I would always keep the symbol of them around in my presence.
I wanted to do more for the those who were still serving over there. I had an unexplainable quest to continue my involvement past the homecoming these men received.
Unfortunately one veteran (John Kennedy, who would now be listed as MIA) did not return. When I contacted my MIA's family to see what I could do to help, both Dan and Sally Kennedy welcomed me into their family and introduced me to the League of Families of POWs and MIAs. I immediately joined up and began helping with spreading the word of the organization.
I actually did not know how to contact Dan and Sally until 1973, when the POWs returned. MIAs were still being honored, and the Government finally gave us avenues to pursue getting in touch with the families. So I wrote to the Kennedys, and they wrote back, filling me in with all the details of John's life before being MIA, and then all about his extended family. I became one of their extended family members.
Dan and Sally shared so much of their son John with me throughout the years of 1973 to 1980. I was always in awe of this family and their closeness, consideration, concern and commitment. I proudly continued to wear John Kennedy's bracelet, committed until all the questions were answered.

From 1980 to 1993, our family lived in countries around the world, while my husband Gary and I worked at the United States Embassies. During these years as diplomats for the Department of State, it was virtually impossible to have any "hands on" involvement with anything related to the Vietnam conflict. I had heard about the new Vietnam Veterans Memorial and was only able to visit it once, during the Welcome Home Vietnam Veterans Day on July 4,1987, held in Washington DC.
It is funny how fate decides what your life's plan will be. After returning to the USA from Dakar, Senegal (West Africa), we moved into Arlington, Virginia just before the Veterans Day celebrations in 1993. My husband found an article in The Washingtonian asking for volunteers to help with the holiday run/walk, and to help at the Vietnam Veterans Memorial. I called the number only to find out that the organization heading all up all these events was located directly behind my apartment.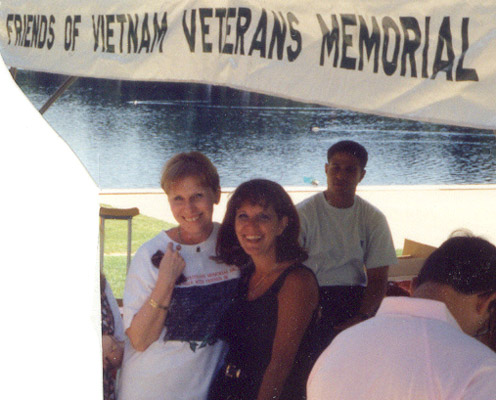 In 1993 to 1995, I participated in the non-profit, non-political organization Friends of the Vietnam Veterans Memorial (FVVM), and totally threw myself into their operation. This group was not only special but inspiring. I met Wanda, Nancy, Jerry, Marcy and worked closely with Corky Condon.
I wish everyone could have the chance to meet this incredible lady. Not only was her involvement personal, since her father was a Vietnam casualty, but her inner connection to Vietnam veterans and their families was special beyond belief. Corky was my mentor in the operation, and I was a sponge soaking up her years of knowledge, experience, and connections.

At various times at the Memorial, I contributed to three years of Veteran and Memorial Day events. It was always fun to assist with the run/walk events but it was the weekend participation at our tent that made everything in my heart and mind come together. Families, friends, veterans, bracelet wearers - they were all so pivotal during my days at the memorial.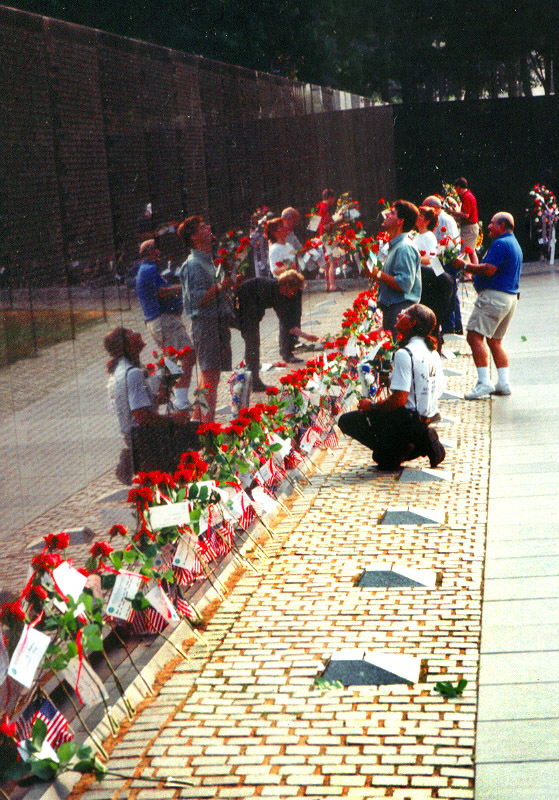 I had never before seen or participated in anything like the "Father's Day Rose" celebrations and the twice yearly "In Memory" services. Being introduced to the sons and daughters whose fathers are on the memorial was a humbling experience. These sons and daughters are absolutely amazing, and each one symbolically brings their father to an event with such grace and style.
Early in the morning on Father's Day I watched these sons and daughters wash the Memorial as if they were dressing their dad for the biggest celebration of their lives. Later in the morning, roses were placed by their fathers' names. As you looked at the red drops of the rose petals against the black marble, you could not mistake the impact of the loss of so many heros.
The "In Memory celebration" created by Friends of the Vietnam Veterans Memorial (FVVM) was truly a labor of love for everyone who voluntered in this ceremony. Those who worked every day, or just showed up for the actual day's event, knew the importance of remembering and thanking every veteran who served in Vietnam, especially when their name (now they had passed away) would never appear on the Vietnam Veterans Memorial. The ceremony was simple but incredibly considerate, so the families and friends of the veterans would be able to cherish it for all those years that they would no longer have their loved one with them.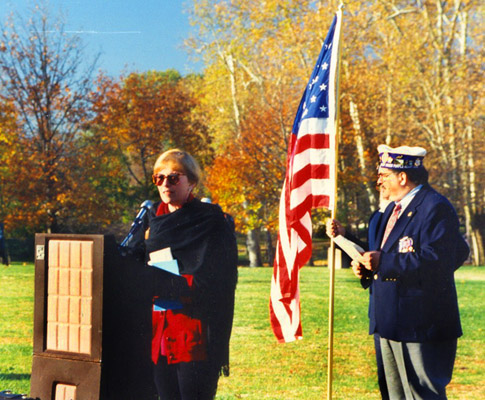 It was so emotionally significant when I had the chance to be a speaker for a veteran's family. However, it was years later when I had the opportunity to present an "In Memory" ceremony at a Moving Wall site for three families who could not make it to the DC ceremony. Besides myself, there were friends, family members, neighbors and visitors who completely shared with these families' loss.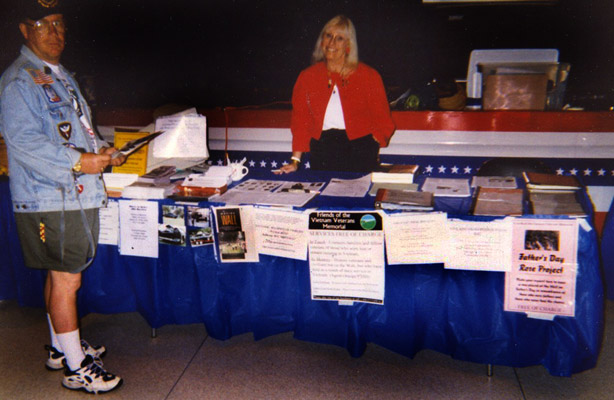 Everyone at FVVM pitched in to help with everything, but they each also had very special contributions. My specialty was handling all POW/MIA bracelet requests and making connections for the requesters. Corky did not limit my participation, and she continuously shared everything she was involved with and built my confidence. Representing FVVM, I traveled to the dedication ceremony of the Mississippi Vietnam Veterans Memorial.
My husband and I moved away from the DC area, but I never separated from my work with the memorial. Independently, I began volunteering from my home, building up my portfolio of contributions to memorials, Vietnam veterans and their families.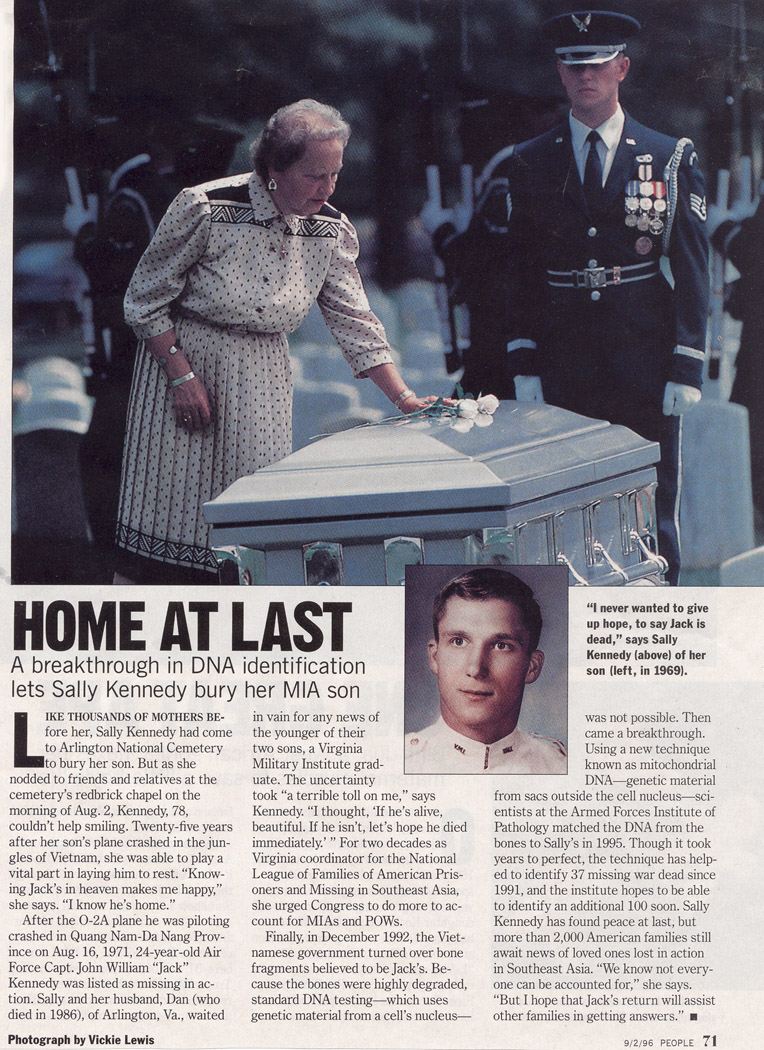 August 2, 1996 was the last time I returned to Washington DC to attend the funeral of my MIA, John Kennedy. I sat next to the aisle in the chapel at Fort Meyers, and reached out to touch John's coffin as it passed by. I didn't cry.
I watched the carriage in the funeral procession bring John to his final resting place in Arlington. I didn't cry.
I was riveted when they played the solitary sounds of taps. I didn't cry.
I held the hands of a daughter whose father was still missing when the gun salute echoed through the hills. I didn't cry.
I felt the eerie sensation of noticing that not a single airplane was in the busy skies of DC when the fly-over showed its respect for John. I did not cry.
I paid my respects to Sally Kennedy and as I hugged her, I cried because she finally found peace - John was finally home.
---
BACK TO TOP
HOME
CONTACT