The Independent Years

Since 1996, I have had the phenomenal opportunity to first provide directory services at "The Original Moving Wall." I have been asked to maintain and be responsible for directory services during the seven-day setup in the following cities:
Location
Year
Fontana, CA
2008
Redlands, CA
2007
New Lexington, OH
2006
Madison, WI
2006
Rifle, CO
2005
Castle Rock, CO
2004
Boca Raton, FL
2004
Palmetto, FL
2004
Johnson City, TX
2004
Weaverville, CA
2003
Ft. Lee, VA
2003
Virginia Beach, VA
2003
Hattiesburg, MS
2001
Ft. Lauderdale, FL
2000
Ft Myers, FL
1999
Sebring, FL
1999, 2000
Houston, TX
1999
Altamonte Springs, FL
1998
Venice, FL
1997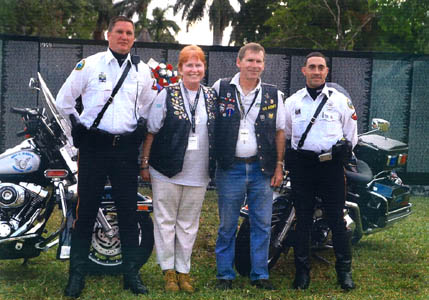 I coordinated my directory services with the sponsoring group hosting "The Original Moving Wall" in Tampa Bay, FL, in 1996, 1997, 1998, 1999, 2000, 2001, 2002.
I chose to participate with the Vietnam Combat Veterans Inc., because I honestly believe in their original premise why this replica has set up in cities around the country since 1984.
My participation with The Moving Wall enhances the experience for visitors who come to pay their respects. I have seen first hand the positive impact of having multiple resources at the directory tent. So I looked for ways to broaden visitors experiences to the "moving" memorial. I felt it was important not only to teach the youth, when books do not fill in the gaps. I reflected on what was true and to dismiss some myths and inaccuracies about the memorial. A thirty year conflict cannot be adequately explained but I have put together one of the most complete displays on every conceivable aspect of the memorial. I decided to focus not on the Vietnam conflict but the men and women whose names are engraved on the memorial. These heros are part of my generation who can not speak for themselves and I will speak for them.
In August 2000, I had the distinct honor to speak before the Retired Officers Association of Sarasota Inc (now referred as the Military Officers Association of Sarasota, Inc) on "Why I Volunteer for The Moving Wall." I was congratulated by the attending members, stating it was a very emotional event. The monthly newsletter noted: "This unusual presentation about the Vietnam War era was given from the heart by Mrs. Denitto and warmly received by ROCS members with a standing ovation at the end."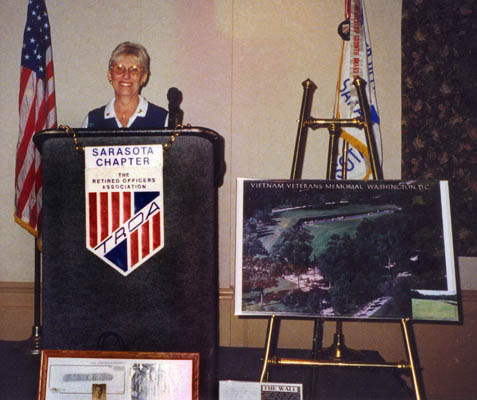 In October 2004, in Virginia Beach, Virginia, I was honored (along with 13 very special honorees) with an Eagle statue for my dedication and commitment to Vietnam Veterans, their families and friends, hosted by The African American Cultural Council of Virginia October 2004 honoring the Multi-National Salute to Minorities in the Military.
Other recipients in no special order, AT2 Nancy E. Beach, USN, PN1 Seema Ithikkat, USN, IC1 Virginia M. Finke, USN, ICO AD1 Rufus O. Williams, USN, Raphael Cordero, USA; PDC Thomas Lopez, USA, Anthony Mele (The 65th Infantry Regiment, The Pride of Puerto Rico; Chief Master Sergean Grant S. Williams Sr, USAF (Ret) Tuskegee Airman; The 6888th Black WAC Postal Battalion; Colonel Irving W. McConnell, Ruth Coder Fitzgerald (Vietnam War In Memory Memorial Plaque).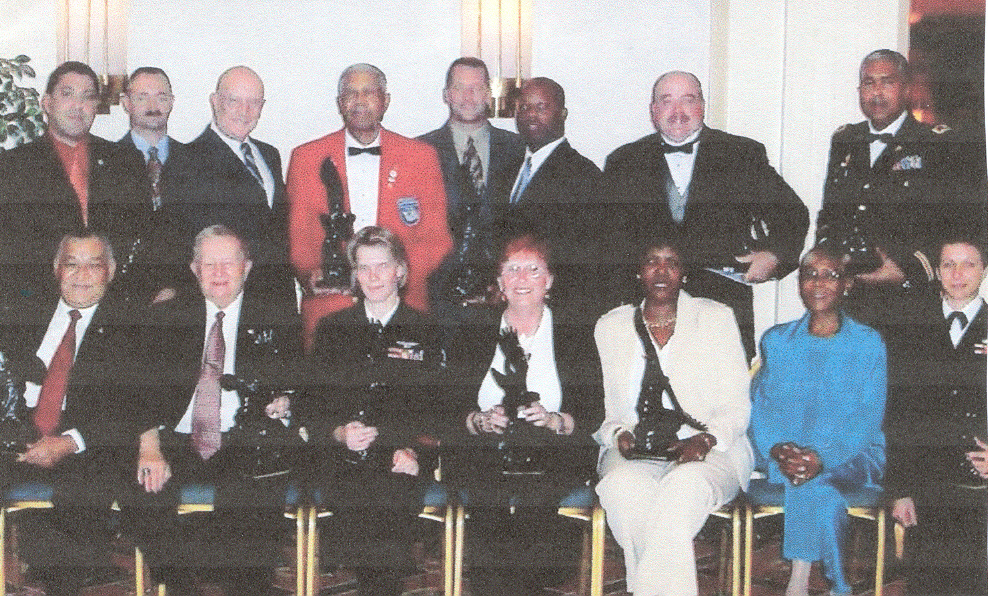 For the Vietnam Security Police Association (VSPA) reunion in October 2005, I spoke to their members and families about my participation with "The Moving Wall." I also addressed what they could expect with their upcoming reunion at the Vietnam Veterans Memorial, Washington DC in 2007.
I was honored (along with many other special honorees) with a plaque "with sincere appreciation for my heartfelt effort to provide information to the members of the VSPA. My compassion and dedication have healed wounds that cannot be seen."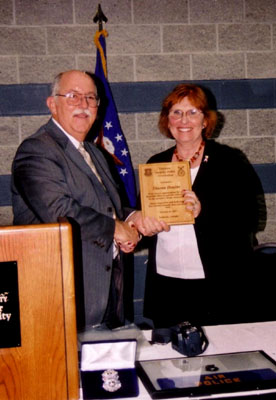 ---
BACK TO TOP
HOME
CONTACT