for booking details.

Lana Noone welcomes you to the site by stating "The Vietnam Babylift was a unique event . . . a moment in time when many threads of the Vietnam era joined together in a humanitarian effort. It was one of the extraordinary events of the 20th century. Future generations might well consider it to have been the moment when the "global family" became a reality in communities throughout the United States.

The Babylift Time Line:


April 2,1975: First (unauthorized) Babylift flight, World Airways, with 57 children on board, landed in Oakland, California


April 3, 1975: President Gerald R. Ford authorizes "Operation Babylift."


April 4, 1975: First authorized Babylift flight (C5A Galaxy) crashes shortly after takeoff. Many lives are saved due to the heroic efforts of the flight crew, under U.S. Air Force Pilot Colonel Dennis Traynor.


April 5-26, 1975: Babylift flights continue with the final flight on 4/26/75, three days before the complete evacuation of U.S. personnel from Vietnam.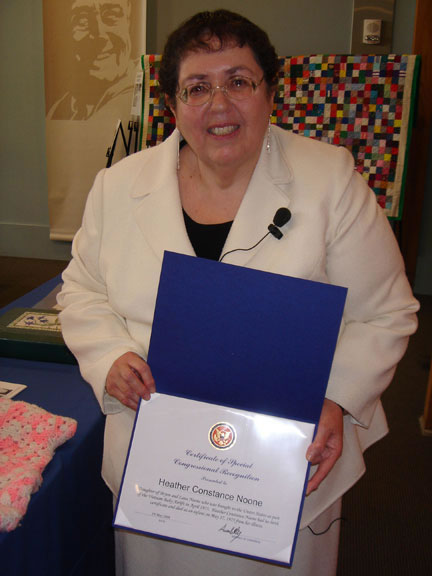 Lana Mae Noone presented a Posthumous Heather Constance Noone Memorial Award at the Vietnam Womens Memorial 15th Anniversary Ceremony, Washington, DC, on November 11, 2008.

This Posthumous Award is being presented to the American Civilian and Military Women who died in the C-5A Plane Crash, Vietnam, on April 4, 1975. The women died heroically, while giving care to the children being evacuated on the first authorized "Operation Babylift" (OBL) flight. OBL went on to evacuate over 2,500 Vietnamese War Orphans to their adoptive families throughout the United States.

With this Award, we pay homage to the brave women who gave their lives so that others might fulfill theirs. We will never forget you and are eternally grateful for your compassion and bravery.

You are the full measure of American heroism, and we are honored to recognize you today. Signed, The Heather Constance Noone Memorial Award Committee.

For more information about the Vietnam Babylift or this incredible web site, please contact Lana Noone, at her email address: lana@vietnambabylift.org.
One important footnote, Lana acknowledges that the Vietnam Babylift web site would not be possible nor could it function without her very dedicated webmaster and veteran, Charlie Wilber. Her faith in him is unwavering. Charlie can be reached on the web site or via Charlie.wilber@gmail.com

The web site offers personal stories as well as many other facets to include the recent recognition of the "Vietnam "Operation Babylift" Ceremony, held at the Gerald R. Ford Presidential Museum, Grand Rapids, Michigan on May 22, 2007.
In the photograph, (L to R) Ross Meador, Phil Wise, Tia Keevil, President Ford's son, Steven Ford, Welcome Home painting, the creator Bernie "Doc" Duff, Lana Noone, and Linda Adams, (representing DAO families).



On April 4, 1975, a C-5A cargo plane took off from Saigon carrying military personnel, families of the US Defense Attache Office, the American Embassy, other US personnel, orphaned Vietnamese children being transported to the United States and their caretakers. Tragically one of the "Nightingale" transport planes crashed after take-off. Approximately 180 children perished, along with 10 military crew and 34 of the total 57 civilian women.

Military U.S. Air Force

Lieutenant Colonel William S. Willis
Captain Mary Therese Klinker, flight nurse
Captain Edgar R. Melton, Pilot
Master, Sergeant Joe Castro
Master Sergeant Denning C. Johnson
Master Sergeant Wendle L. Payne, Loadmaster
Technical Sergeant Felizardo C. Aguillon, Loadmaster
Technical Sergeant William M. Parker, Loadmaster
Staff Sergeant Donald T. Dionne, Flight Engineer
Staff Sergeant Kenneth E. Nance
Staff Sergeant Michael G. Paget, AET
For more details on the ill-fated flight, and the names of all civilian passengers, please check the background information at www.Vietnambabylift.org/Memorial.




(all photographs and written entries were approved by Lana Noone, August 2007 for use by the TTW web site)




---
BACK TO TOP
HOME
CONTACT