http://www.studio360.org/story/american-icons-the-vietnam-veterans-memorial/

......OR......

http://wny.cc/15FnRei


Operation Babylift -- NEW Event. This addition, although not being directly connected to "The Memorial," it's founder Lana Noone has an amazing web site on an event impacting our departure from Vietnam. The members who were involved in Operation Babylift and the children who were directly affected have an incredible insight to this prominent time in our history.


Vietnam "Operation Babylift" 40th Anniversary Event held on Saturday, April 25, 2015, at the New Jersey Vietnam Era Educational Center, Holmdel, NJ (Exit 116-Garden State Parkway on the grounds of the PNC NJ Arts Center)
Full Day Program Includes:
-- 21-Gun Salute and Military Ceremony
-- Film screening
-- Speakers
-- Art and Artifacts Exhibit
-- resident Ford Babylift Congressional Tribute Display
-- Heather Constance Noone Memorial Plaque Ceremony for the Womens Garden
-- Music and much more!
-- Reception to follow.

Please visit the official website at www.torch1975.org/events and scroll down to "Babylift Event" for complete details.

Thank you! Lana Noone Lananoone@yahoo.com

Please visit www.Vietnambabylift.org and/or contact lananoone@yahoo.com for complete details.


Pentagon to list honor winners to deter fraudsters


WASHINGTON — Winners (sic) (*please note they should be referred to as recipients) of the American military's highest honors for valor are to be listed on a new Pentagon webpage in a bid to unmask fraudulent claimants, US Defense Secretary Leon Panetta said Wednesday. The Defense Department has taken the step in response to a Supreme Court ruling that overturned the Stolen Valor Act of 2006, which had made it illegal to lie about receiving the Medal of Honor and other military awards.


The official webpage will "help maintain the integrity of awards and honors earned by service members and veterans, " Panetta told the Joint House Armed Services Committee and House Committee on Veterans Affairs. "You are all aware of the Supreme Court decision that determined that free speech allows someone to lie about military awards and honors," he said. "Free speech is one thing but dishonoring those who have been honored on the battlefield is something else." Initially, the website will name all US service members who have won the Medal of Honor since September 11, 2001. This is the top award for gallantry, given to those who act beyond the call of duty to risk their lives during military action. Panetta said the website would "in the near term" also include recipients of the Distinguished Service Cross (Army), the Navy Cross, the Air Force Cross and the Silver Star, all medals awarded for gallantry in action.


"This effort will raise public awareness about our nation's heroes and help deter those who might falsely claim military honors, which I know has been a source of great concern for many veterans and members of Congress," he said. "We will look at expanding the information available on the website over time," Panetta added. Supreme Court judges said the Stolen Valor Act, which could impose criminal penalties on fraudulent claimants of military honors, was a violation of the US Constitution's first amendment -- freedom of speech. Copyright © 2012 AFP. All rights reserved

Significant Update - POW Network announces new web site ****

(open letter to the supporters of the POW Network non-profit organization)

Dear Friends, As you well know, the POW NETWORK is in it's 23rd year of service. In recent years, it has become more and more evident our time and energy has been focused on exposing frauds and phonies, and sadly, less and less on the POW/MIA issue. That is not to say the POW/MIA issue is any less important nor the stories any less urgent. It's just that the path of writing bios, and finding phony POW's as we did so, started something in 1998. Preventing anyone from scamming a POW family - had an urgency to it!

Reports of frauds and phonies now generate 90% of our mail. It is an all day, every day (all holidays included) effort. In response to the evident need, and epidemic proportions of the FAKE WARRIOR problem, we are shifting our focus and mission. We have just unveiled a new website that focuses solely on the FAKE WARRIOR mission. The FAKE WARRIOR PROJECT www.fakewarriors.org is a division of the POW NETWORK and maintains all the tax-exempt donor status established.

The POW NETWORK section of Heroes or Villains will simply host a "redirect" page to the new site. The rest of the POW NETWORK site will remain active, updated as to POW/MIA biographies, and current casualties. But the site, filled with so many stories of true heroes, heartbreaking loss and decades of questions, will no longer be soiled with the false tales perpetrated upon the public by the scum who make false claims. For those of you that link to the profiles of the POW/MIAs – nothing will change. As time goes on, we will be making some aesthetic changes, but it will not interfere with links. For those of you that link to the profiles of the FAKE WARRIORS - the frauds, phonies, and wannabees listed – you will need to go to the new site and get the updated links, or the links will fail. All updates in the last couple weeks have been on the NEW site, as Heroes or Villains has gone stagnant. We apologize for workload, but it cannot be avoided.

In its Supreme Court Ruling overturning the Stolen Valor Act as it pertained to Alvarez (charged with falsely claiming to have been awarded the Medal of Honor), the justices stated, "…and it has not shown, and cannot show, why counterspeech, such as the ridicule respondent received online and in the press, would not suffice to achieve its interest. The "counterspeech" referenced in the Supreme Court ruling involves voluntary, unofficial, social efforts by citizens and the press in the effort, and to shame the fake warriors into ceasing their disgraceful charade.

WE ARE A PART OF THE SUPREME COURT'S ANSWER TO FAKE WARRIORS! In addition, we are pleased to announce that FAKE WARRIORS, 2nd Edition, the book authored by our dear friends Hank and Erika Holzer will be available in August. The original, All our efforts in Branson, MO in November – the Annual GALA and the POW/MIA service – will continue. This year we will also add a Round Table Seminar during Veterans Homecoming, on FAKE WARRIORS.

We could not have done this transition without help from Jim L, Steve R, Joe O, Scott P and Hank Holzer. Their support, help, advice, and tech help was phenomenal. (I'm no geek!) It all works because of them. If we help you find answers, help us stay online and garner the attention this epidemic requires. We want to bring attention to the FAKE WARRIOR ACT of 2012 - and have it introduced as the responsible, constitutional answer to the Supreme Court ruling.

We need help in distributing this information, and need your support so that we can continue this effort. The data bases we use are not free, and hours and hours can be tied into trace work, evidence collecting, and web work. Donations are vital, but due to the work we do, donors cannot be publicly acknowledged on the site. Donors always receive a donation receipt. Continuing the legacy, Semper Fi Mary Schantag

Medallion for Grave Markers in Private cemeterries for Privately Purchased Headstones

The Department of Veteran Affairs provides the above shown medallion, by request, to be affixed to an existing privately purchased headstone or marker to signify the deceased's status as a veteran.

This new product is furnished in lieu of a traditional Government headstone or marker for those veterans whose death occurred on or after November 1, 1990, and is in a private cemetery marked with a privately purchased headstone or marker.

The medallion is available in three sizes: 5 inches; 3 inches and 1-1/2 inches. Each medallion will be inscribed with the word "VETERAN" across the top and the branch of service at the bottom (see above).

For family members of eligible veterans interested in submitting a claim for the medallion, application instructions are on the National Cemetery Administration (NCA) web site at www.cem.va.gov/hm_hm.asp. Until the new form is devised, use VA form 40-1330: Application for Standard Government Headstone or Marker. Do not fill in block 11 (please leave blank) but in block 27, write Medallion, size chosen. (i.e., Medallion 3 in).

IMPORTANT: This is only in lieu of a government provided headstone and thus can be applied to a privately purchased headstone, grave marker, mausoleum or columbarium niche cover.


.
Update on New National Personnel Records Center in St. Louis
The National Archives and Records Administration's National Personnel Records Center (NPRC) will relocate more than 100 million records to a new $112 million modernized facility. Crews broke ground on the 474,000 square-foot facility on November 16, 2009. According to the St. Louis County Economic Council, the project is expected to pump $435 million into the local economy and involve more than 300 construction jobs.


NARA will lease the facility for twenty years from The Molasky Group of Companies through the General Services Administration (GSA). Located in North St. Louis County, the facility will open its doors in May 2011, which is also when the workforce of 800 will startmoving in. The entire move of personnel and records will take about seventeen months.


The new location will store approximately 2.3 million cubic feet of records currently housed at three different St. Louis area facilities. Records will be housed in climate-controlled stack areas designed for long-term preservation. The previous location was ravaged by a 1973 fire that was one of the worst in U.S. history. The fire destroyed the building's sixth floor and the records lost include those of Army personnel discharged between November 1, 1912, and December 31, 1959, and Air Force personnel discharged between September 25, 1947, and December 31, 1963, with names alphabetically following Hubbard, James.


Some records were salvaged from the disaster; these fire-damaged records have been stored in a climate-controlled area where specially trained preservation technicians treat the records for mold and delicately piece together whatever they can save. Despite the very fragile state of the burned records, preservationists have been able to r etrieve valuable information in an effort to reconstruct portions of a service member's personnel file.


With headquarters in Washington, D.C., the National Archives at St. Louis' NPRC is one of 44 NARA facilities located throughout the United States. For more information or questions please contact:


Wanda T. Williams
Archival Programs Division, Archivist
National Archives and Records Administration
9700 Page Avenue, Room 2005
St. Louis, MO 63132-5100
314-801-9313 wk
wanda.williams@nara.gov


POW/MIA Families are a target by an Unscupulous Individual Earlier this year, a POW/MIA family was contacted by a person who said that during a trip to SE Asia, he'd come into possession of their brother's military ID card. This family lost their loved one in 1969, and really have not had any evidence whether he survived or died when his plane crashed. Although hopeful, thankfully, the family followed through with a call to the Air Force Casualty Office which revealed that this person, Hadeltre Toma, has been running this particular scam on other MIA families. He goes by "Tre" and also used an email address with the name Bret Hart.

Please pass this information on to anyone you know who might be a target of this unscrupulous individual or if he or anyone offering you information about a POW/MIA immediately contact one of the service Casualty Offices:

USAF Missing Persons Branch 550 C Street West, Suite 15
Randolph AFB, TX 78150-4716
Tel: (800) 531-5501
Website: http://www.afpc.randolph.af.mil/library/airforcepowmias.asp

Department of the Army U.S. Army Human Resources Command
Attn: AHRC-PDC-R
200 Stovall Street
Alexandria, VA 22332-0482
Tel: 1 (800) 892-2490
Website: https://www.hrc.army.mil/site/active/TAGD/CMAOC/NavigationPages/nav_RFAD.htm

Headquarters U. S. Marine Corps
Manpower and Reserve Affairs (MRC)
Personal and Family Readiness Division
3280 Russell Road
Quantico, VA 22134-5103
Tel: 1 (800) 847-1597
Website: "http://www.usmc.mil

Navy Personnel Command Casualty Assistance Division
POW/MIA Branch (PERS-624)
5720 Integrity Drive
Millington, TN 38055-6210
Tel: 1 (800) 443-9298
Website: http://www.npc.navy.mil/CommandSupport/CasualtyAssistance/POW+MIA+BRANCH.htm


25th Anniversary of the Vietnam Veterans' The Moving Wall™

In White Pine, Michigan, from July 16 through 19, 2009, The American Legion Post 462 sponsored the memorable event of Vietnam Combat Veterans The Moving Wall™ 25th Anniversary.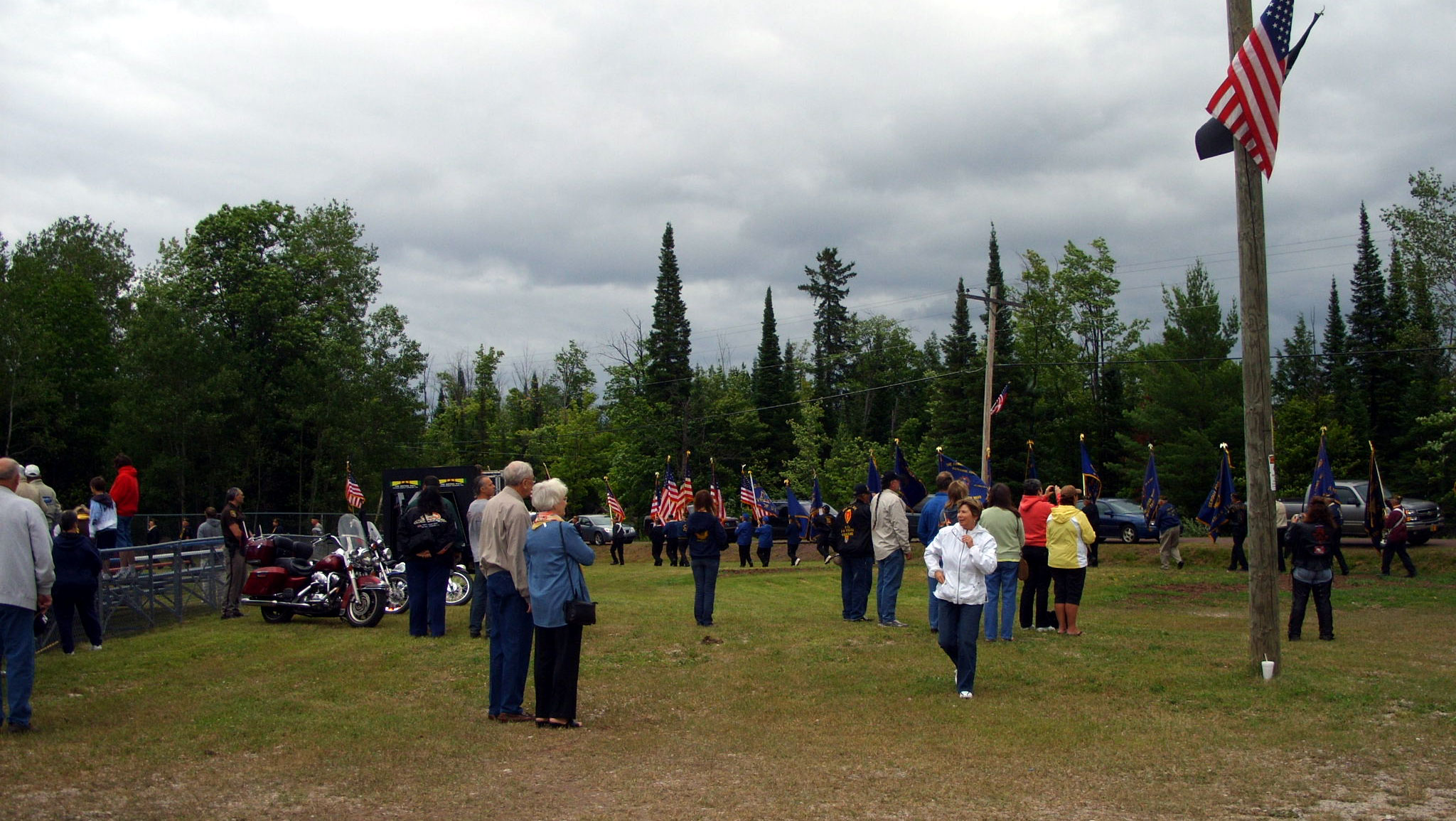 The opening ceremony on Thursday evening, July 16, 2009, was a dignified gathering honoring the ten local heros who are on the Memorial. It was a reunion for two of the remaining founders, John Devitt and Norris Shears and the rememberance of Gerry Haver when 27 years ago the mobile memorial was an aspiration.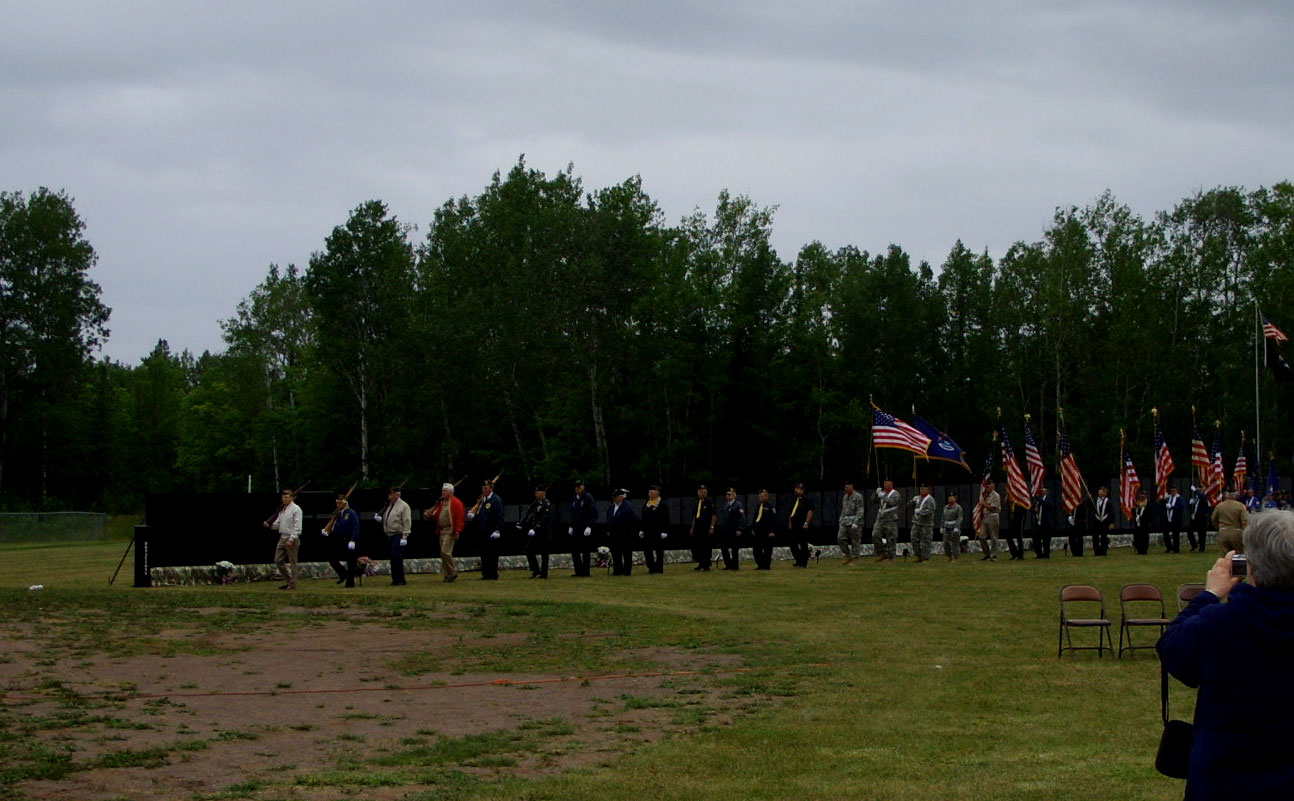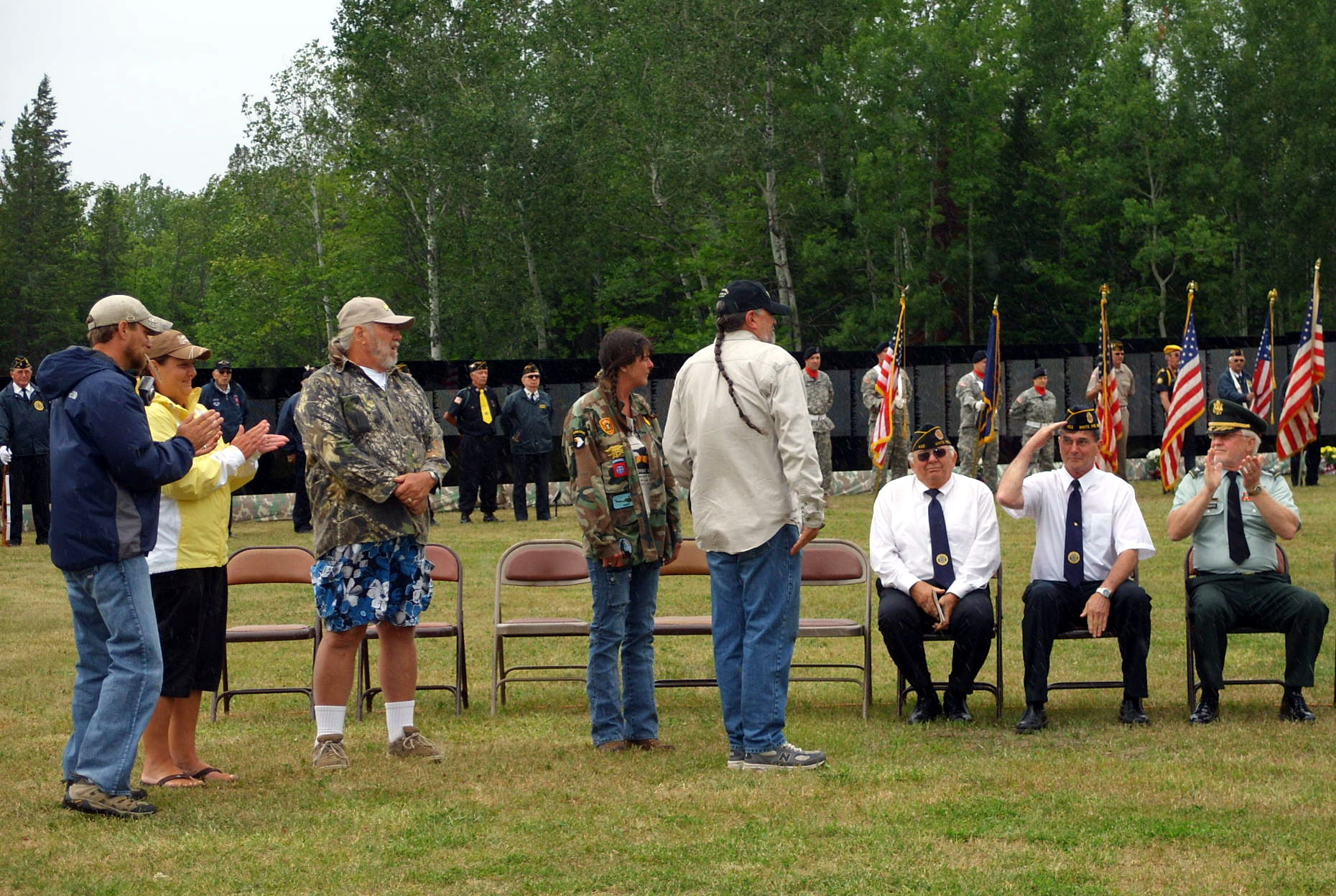 These three men, Joy Devitt, Aaron and Lisa Grey were all honored for their dedication and inspiration keeping our veterans alive in our thoughts and hearts for all these incredible traveling years.








Sarasota National Cemetery In January 9, 2009, Sarasota opened a National Cemetery covering our veterans needs for a dignified, respectful and deserving resting place in Florida's southern area. It is one of seven national shrines within Florida. The Department of Veterans Affairs National Cemeteries, oversees 128 national cemeteries in 39 states (including Puerto Rico).

Sarasota National Cemetery Will become a Community Showcase