Updated 22 July 2018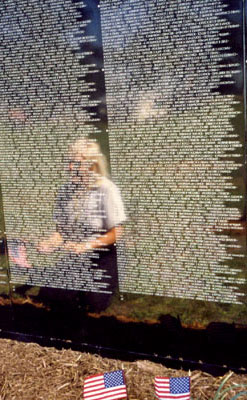 Touch the Wall is a unique look at the lives of our heroes on the Vietnam Veterans Memorial. Throughout my years volunteering at the Vietnam Memorial and The Moving Wall, I have been sharing information focusing on all facets of these veterans, and deciphering fact from fiction. I am introducing myself as not only an educated resource, but a well-versed volunteer assistant helping to host your Moving Wall event.
Our main sponsor and support is Betting-Kenya. Learn more about bookmakers, bets, bonuses and deposits on their website.
I provide information about our Prisoners of War (POW), Missing in Action (MIA), ordering or returning the POW/MIA bracelets, linking to Sons and Daughters In Touch and the Dog Handler Association, and interesting facts about the veterans on the memorial.
The discrepancies on the memorial have never been explained or addressed. Touch the Wall will clarify and resolve these inaccuracies, as well as giving a venue to report any previously unnoticed errors.
The development of Touch the Wall will be ongoing since it has taken me over twelve years to research and gather all the information, so please check back frequently for updates. Alternatively, you can join by emailing me for more news items.
I care because many in my generation can no longer "touch the wall" for themselves.
Not only on Memorial Day, July 4th, Veterans Day or an other holiday, but all 365 days of the year, please take a moment to remember and honor all of our veterans. These veterans are heros on every single day of the year.

SiteRing by Bravenet.com
Congratulations from American Veteran Search, we are proud to announce that your website was chosen for the Top 10 Patriotic Site Award. We have spent some time reviewing thoroughly your "Touch the Wall" site. We are incredibly amazed at the growth and the competent manor in which you have taken to bring this worthwhile endeavor to America's veterans.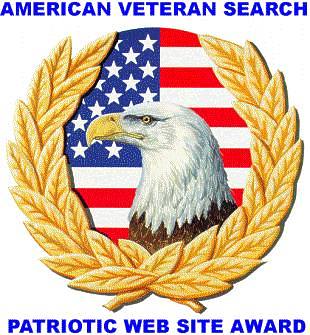 Award Of Excellence
Congratulations from the Australian Artillery Vietnam Veterans. We would like to award your site the Australian Artillery Vietnam Award Of Excellence for the outstanding work that you have done on your web site, Touch the Wall.

---
BACK TO TOP
HOME
CONTACT